Alan Bran
At ZOOM Recording Studio, we take great pride in our team of highly skilled and experienced sound engineers who play a critical role in making your musical dreams a reality. Our recording studio in Los Angeles is home to several Grammy-nominated sound engineers who are passionate about music and dedicated to providing top-notch recording experiences to music artists.
What Makes Our Sound Engineers Stand Out
Passion for Music: Our engineers possess a genuine passion for music, which drives their dedication and commitment to every project. Their love of music inspires them to go above and beyond to capture the essence of your performance.
Expertise and Training: All our engineers are highly trained professionals with specialized education in music. They have the experience of collectively spending over 500 hours in various studio sessions, gaining valuable experience and honing their skills.
Quality and Monitoring: At our recording studio in Los Angeles, we prioritize delivering top-notch results, and engineers' final projects undergo constant monitoring. It ensures that the recordings and mixes meet the highest standards of music quality.
Client Satisfaction and Collaboration: Our engineers have an excellent track record of receiving positive reviews from their clients, showcasing their exceptional abilities. With their keen attention to detail and openness to collaboration, they work seamlessly with music artists, turning musical visions into reality.
When you work with the top recording studio in Los Angeles, you gain access to a team of sound engineers who genuinely care about your music and are committed to assisting you in realizing your artistic vision. Our dedicated engineers bring out the best in your talent, whether you're a seasoned professional or a newcomer to the music scene.
At Zoom Recording Studio, you can benefit from the expertise and professionalism of our sound engineers. We're here to help you realize your musical dreams, one outstanding recording at a time. Book a session with us today to get started on creating music that will resonate with audiences all over the world!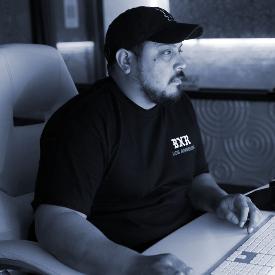 Reboost Engineer
Alan R. Bran was born and raised in Northeast Los Angeles. Music has always played a pivotal role in Alan's life. He began playing the drums at a very young age, but his path in the audio world began as a teenager when he started assisting with live sound. By 2010, Alan was studying Audio Engineering with such mentors as Michael Verdick and Roger Nichols. Soon after, he started to assist in Engineering for West Coast Juggernaut "Bishop Lamont". From 2011-2015, Alan's projects involved artists such as Chali 2na from Jurassic 5, Rapper Big Pooh from Little Brother, Black Milk, Raekwon among various other Hip Hop artists. In 2015, after Graduating from The Art Institute of California in Santa Monica with a BA in Audio Engineering, Alan began to Engineer for Grammy artist/producer Josef Leimberg (aka Love Dragon). During this time,, he worked with many of the greats such as George Clinton, Sir and Latoya Williams. Alan is an Audio Engineer whose deep roots encompass music in its entirety. His approach is based: Help the artist(s) bring their vision and soul-craft to life! He is committed to this field, his craft and to the projects in which he is entrusted.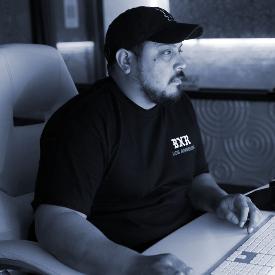 I was very impressed by Alan's bio and his experience appeared to match my niche. I had my first session with him a couple years ago and he's been my go to engineer ever since. lay my vocals at home and he brings my sound and vision to life.
He gives great feedback and cares about the end result. I highly recommend his services.