10 Tips How to Get and Promote Your Gigs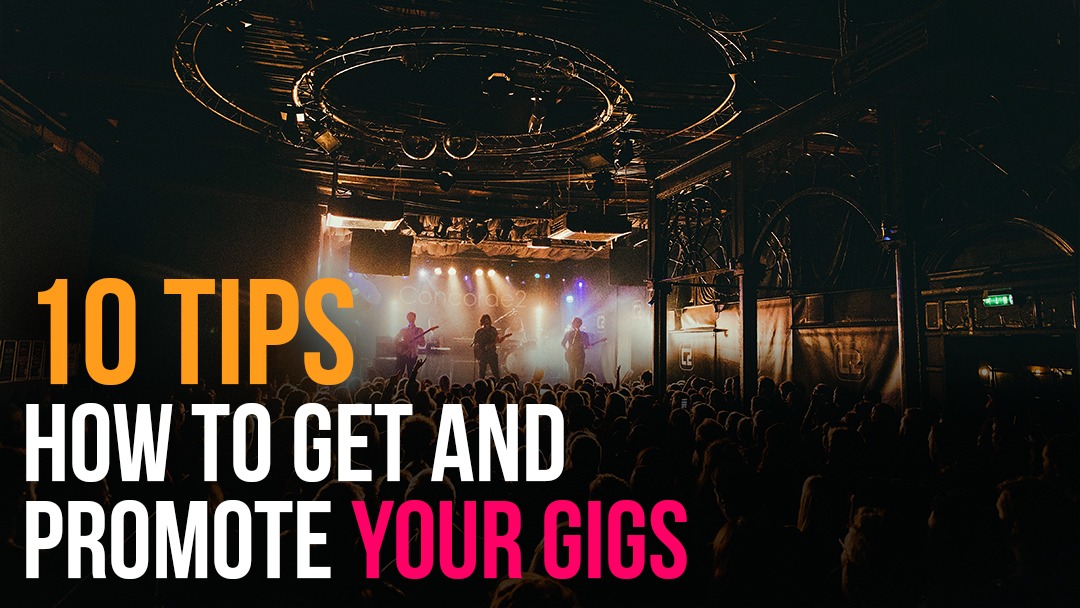 There's more competition than ever before, and in a climate where many small-town music venues have been forced to close, getting your foot in the door, or rather, on the stage, can be difficult.
Here are 10 tips for musicians on getting and promoting their gigs: -
1. Get to know what's going on in your vicinity.
Follow local venues and event organizers on social media and join up for their mailing lists so you'll be the first to hear if they're looking for artists. Follow other area bands so you'll be ready to respond if they put out a call for a support act. Regular events, such as an independent venue week, which takes place in January, are also worth noting. Perhaps a location near you hosts mixed-program events or hosts an all-day event with a confirmed lineup. This can be a good in-road if you can pinpoint a specific occasion or season when a local venue is looking to support up-and-coming artists.
2. Make an effort to locate appropriate venues.
Many venues will have a diverse music program, but some may be more specialized. If there's a venue that fits your genre and style well, you'll have a high chance of convincing them to let you play there. It's also worth noting the capacities of potential venues. It's only natural to begin small and work your way up.
3. Determine who the best person to connect with
When it comes to gig promotion, social media has a lot of applications, but if you approach a venue this way to beg for a gig, you're unlikely to reach the music programmer. The name and email address of the programmer is usually listed on the venue's website (although you might have to do some digging). Call them by their first name and send a personalized email, or better yet, give them a call or arrange to meet for a talk.
4. Don't get too worked up about the gigs you didn't receive.
You may receive a negative response from a location, be told there is no availability, or (as terrible as it may be) receive no response at all. This can be discouraging, but it's an unavoidable aspect of the process. The fact that almost every successful artist has experienced this at some point in their career can provide some solace. It's fantastic if a place provides some useful takeaways. If not, it's only a matter of moving on, working hard, and eventually demonstrating what they missed.
5. Keep your financial expectations in check (but not too much)
Bands should undoubtedly be paid to perform, so if you're asked to pay to play somewhere, which does happen - especially in larger cities - it's a huge red flag. When it comes to money, you'll come across a variety of various arrangements with varying amounts of risk and return.
6. Take the first measures toward publicizing your performance.
It's best to schedule an announcement with the venue ahead of time. Create a Facebook event, add the venue and any support acts as co-hosts, and invite your existing followers and friends once this has been agreed upon. Make a poster to distribute both online and in person. Use an engaging live shot as the major focal point, since this will represent the type of band you are and how you perform better than anything else. Put your posters up in places where music fans are likely to congregate, such as record stores, guitar shops, and other clubs and pubs.
7. Make it simple for anyone interested in hiring your band.
When you're preparing to contact a venue, keep in mind that they undoubtedly receive a large number of gig applications every day. You'll have a better chance than someone who has written too little, too much, or neglected to highlight the qualities that make their band unique and potentially saleable if you can show that you've thought about what you're submitting, made it brief, informative, and easy to browse. Select items that demonstrate your strengths, such asperformancesm reviews and previous performances at similar locations or alongside noteworthy artists.
8. Maintain the momentum
As the show approaches, increase your promotional efforts and experiment with new concepts. Band rehearsal clips, as well as unique social media videos that highlight how happy the band is or transmit positive messages like quick ticket sales, can help to increase engagement. It's also a good idea to contact the local press. Venues will usually have a press contact sheet that you can use, and they'll be thrilled that you're taking the initiative to do some publicity work yourself. Listings are frequently free, so start there and if it sounds reasonable, consider placing an ad later.
9. Prepare yourself to go on to larger and better things
Gig swaps are an excellent method to gain experience playing in new places without having to break into the scene on your own. Collaborate with similar bands from around the world to put on joint shows where they support you in your hometown and vice versa. You'll almost certainly get new admirers, and you never know when a new relationship will be useful. Consider bringing someone from a booking agency to a show whenever you're completely satisfied with your live performance and your ability to draw in a crowd. If they like what you do, they could be willing to help you with some of the more difficult tasks.
10. After the event, keep promoting yourself
Every performance is an opportunity to collect additional marketing materials and strengthen relationships with venues and new fans. If there was a photographer on hand, ask for the images and share them (with credit) to highlight how fantastic the event was. Thank the audience and the venue, and post tweets or comments demonstrating how much fun everyone had.
Experienced music engineers and state-of-the-art technology combine at ZOOM Recording Studio to produce quality music recordings.