4 Best Mastering Tools for Independent Artists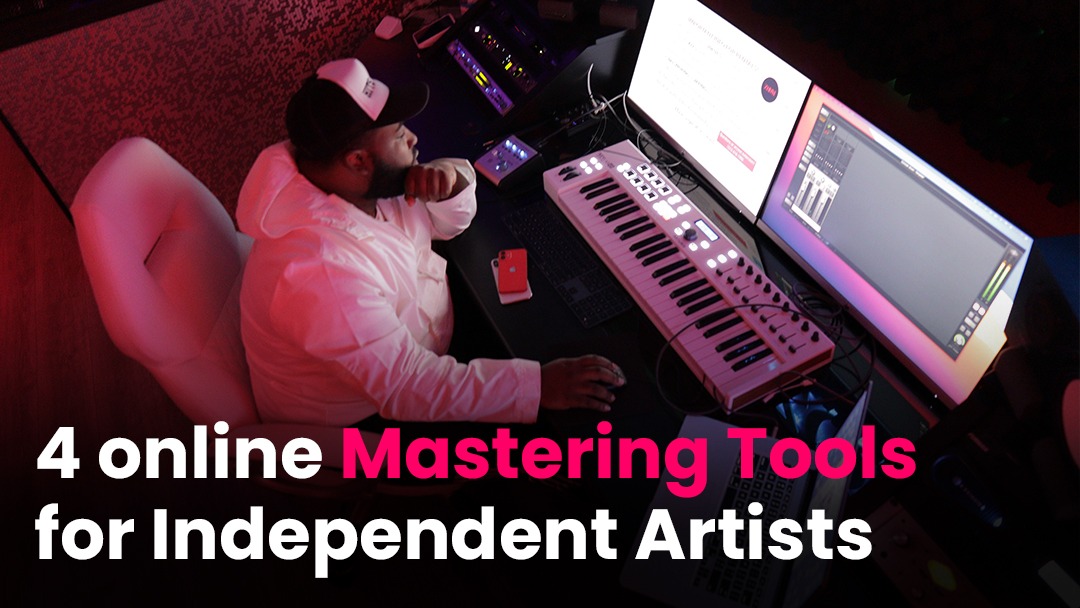 Mastering your track is essentially preparing your music properly for distribution.Here, we enlist the four favorite online mastering tools for emerging artists.
It takes a lot of time to learn how to master your tracks, and it is even more challenging for new artists to spend money on an audio engineer. You're already working hard on your own and coming up with innovative ways to promote your music and book live performances. Spending money and time wisely is important, especially when you first start out.
Algorithmic online mastering tools and services have evolved as a result of the development of technology in the music business. We've compiled a list of our favorite, cost-effective online mastering tools that are simple to use.
1. Master channel
The superstar, DJ Tom "Matoma" Straete Lagergren, with over three billion streams of his tracks, co-founded Masterchannel with Simon Hestermann, a German mastering engineer and audio researcher, and Christian Ringstad Schultz, a Norwegian serial entrepreneur. The three came together to develop their automated online mastering solution, Masterchannel as they all desired to make a difference in the music business.
By providing a premium service at a competitive price and by charging per track rather than through a subscription, Masterchannel aims to democratize the mastering process. The flexibility was created to allow independent artists to provide studio-level sound enhancement in earlier demo versions of their tracks and to benefit smaller labels with tighter recording budgets.
Essential features
Masterchannel took a different approach from other AI-driven products available in the market. To produce an impressive result, its innovative algorithm imitates the thought processes of a human mastering engineer.
Outstanding features of Masterchannel
· Improves the audio quality of your music so that it will sound great on all devices and streaming services, increasing the likelihood that it will be included in the right playlists and publications.
· No technical knowledge is necessary because the master you receive needs no user adjustments.
Getting results in under ten minutes.
· Simultaneously master several tracks. Ideal for albums and EPs.
· If you need to make any changes to your initial upload, you have the option to re-upload your mix.
Pros of Masterchannel
budget-friendly
Studio-grade quality without the need for technical knowledge.
· Upload a number of songs at once.
Quick turn around time.
· They provide one free re-upload if you need to adjust your upload.
Cons of Masterchannel
Some subtleties in the audio that an expert human audio engineer could detect won't be picked up on by a computer-generated algorithm.
2. Bandlab Mastering
In 2015, Bandlab launched as a social network with the goal of fostering musician collaboration and music sharing online. Currently, you are able to create music, share it, work with others, and interact with your fans.
The artificial intelligence mastering service that Bandlab's audio engineers created is now a crucial component of their offering. You can upload a song to get it quickly mastered so that it is suitable and prepared for distribution, similar to other automated online mastering tools.
Outstanding features of Bandlab Mastering
· You can upload songs, create music, and collaborate with other BandLab users as part of their original membership. To write and record new music, you will have access to all the necessary engineering equipment.
· You can use their library without being concerned about violating someone else's intellectual property thanks to their extensive collection of royalty-free loops and sounds.
· An online DAW developed by professionals in the field with more than 30 years of experience. If you want to share your music, you can record, edit, compose, mix, master, and upload it.
An AI-based mastering service.
Pros of Bandlab
100% free
· To master your music, you don't need to register.
· You can use BandLab to master earlier songs you've created if you have an account (Cakewalk).
Powerful audio toolkit as a whole.
· For your current tracks, a smooth mastering process.
Cons of Bandlab
· An upload cannot be edited or bundled (one track at a time).
· In comparison to other services, the mastering tools are somewhat constrained.
· Some subtleties in the audio that an expert human audio engineer could detect won't be picked up on by a computer-generated algorithm.
3. Cloudbounce
Launched in 2015, with support from some of the most recognisable brands in the audio industry, such as Focusrite and ROLI, CloudBounce is an online audio AI mastering service. By increasing volume and assisting it to comply with streaming loudness regulations, its AI mastering enhances the sound of a song.
The service provided by CloudBounce improves the audio quality of any track by adding all the necessary effects to it. Compression, EQ, limiting, stereo imaging, and many other techniques fall under this category. All of these are intended to mimic the work that a human engineer would perform when mastering a track. Before uploading, make sure your song is properly mixed, and CloudBounce will return a fantastic mastered result.
Outstanding features of CloudBounce
· Several audio files can be uploaded at once.
The genre of the song is selectable (for optimized mastering results).
Selection of a reference track.
· An entire album or EP be mastered in one session.
· Put all of the songs in a single library.
The mastered song or songs can be exported in a number of different formats (MP3, FLAC, AIFF, WAV, etc.)
Pros of CloudBounce
Reasonable prices
· Prior to accepting it, you can pre-listen to your completed track.
Your master should quickly turn around (only 5 minutes)
· Share your mastered tracks with your audience quickly.
Regular updates that raise the caliber of their services
The ability to choose which aspects of your audio file to improve
Cons of CloudBounce
· Some subtleties in the audio that a skilled human audio engineer could detect won't be picked up on by a computer-generated algorithm.
Only a few preference styles exist.
4.eMastered _
Artificial intelligence is used by the online automated mastering service eMastered to master tracks. In order to produce a mastered product that adheres to industry standards, the service was co-founded by Grammy Award-winning engineer Smith Carlson and popular EDM singer/producer Collin McLoughlin.
You can upload your song to their platform in MP3, WAV, or AIFF format, and their AI-powered mastering engine will instantly get it mastered. Their automated algorithm will analyze your song and sel ect the best tools to improve it so that it sounds, in the words of eMastered, "more full of life."
There is some control over the degree to which various factors, such as EQ, compression, volume, stereo width, and the overall "strength" of the master, are automated. Additionally, each recording has a straightforward 3-band EQ (Low, Mid, High) that you can boost or cut to your preferences.
Machine learning is used by eMastered to enhance each song it masters, and it works with any genre. Their service is based on the automated use of conventional mastering techniques.
Outstanding features of eMastered
· No matter the genre, you get a good-sounding master.
Mastering for reference. A reference track can be uploaded for the system to analyse. Then, it adds effects to your song to produce a sound that resembles the reference.
Advanced customization/options. Compression, EQ, and other factors should be able to be adjusted manually so that the AI ​​isn't doing everything on its own without any assistance fr om the user.
· The eMastered server ought to have backup copies of all of your masters.
· One subscription plan grants access to limitless downloads and masters.
Pros of eMastered
Reasonable prices
Several mastering settings that are simple to modify
swift turnaround and ease of use
· It encompasses the entire frequency range sonically.
Utilize a reference track to perfect your song.
Cons of eMastered
· Share your completed song with your audience.
· The track has lost some of the magic you get from using a specialized mastering studio.
Conclusion
These mastering tools help you to give a professional touch to your tracks and make them ready for distribution. Since mostly based on AI, they lack humane quality. Else they are perfect for artists who are starting their careers.
ZOOM Recording Studio , the professional recording studio supports emerging artists with a number of music-producing services. We also offer online and mastering services for distant clients or for those who do not want to spend their time and mixing money in the studio. If you require online and mixing mastering services, we are waiting for you.