Building Your Music Team: Hiring and Collaborating with Music Industry Professionals in La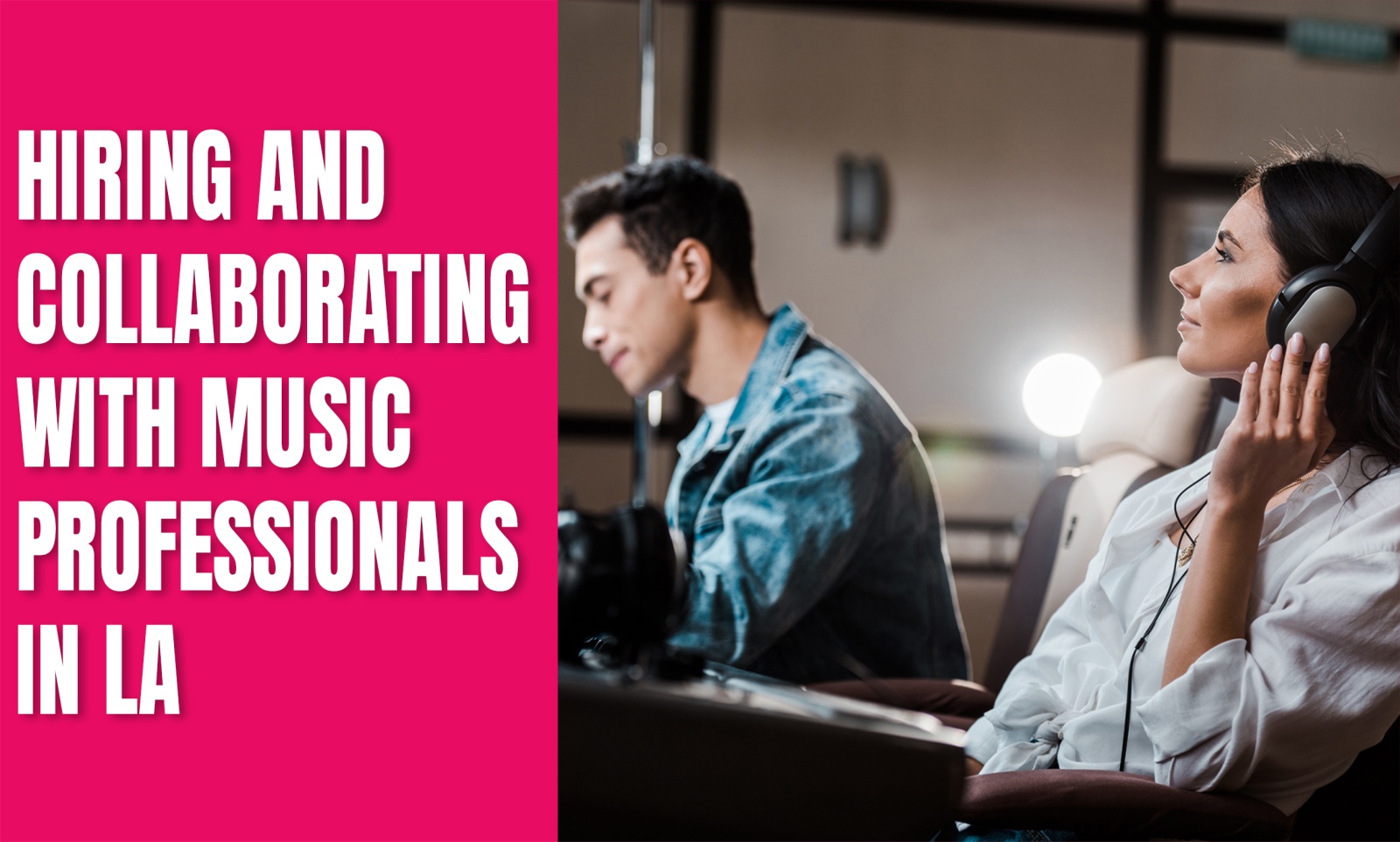 Date:9-May-2023
When building a successful music career in LA, you need people to support you and share your responsibilities so that you can get enough time to focus on your music. So, start building your music team to achieve your goal as a music artist in LA.
But how should you go about it? Read this blog post on how to build a music team with music industry professionals in LA.
Understand what kind of team you need
Before you begin hiring, you must decide what kind of team you need to assemble. You may require various types of professionals, including a manager, booking agent, publicist, producer, engineer, and so forth, depending on your musical objectives. Whom you will add to your team and when depends on your career path, goals, personal skill set, time commitment, and career level.
For instance, you may start working with co-writers and other songwriters at the beginning of your career to expand your skill set as a songwriter. Depending on your abilities, you might be able to create TV-quality recordings in your home studio without the help of a producer or engineer. You might begin by submitting your own songs to music libraries and other licensing opportunities at first but later you might need to establish direct contact with music supervisors, ad agencies, and filmmakers to license your music. As your career develops, you might begin collaborating with a publisher to help you make more significant connections and placements.
Now let's see another example. Your team will look very different if you're a traditional band that goes on tour and puts out albums. In the beginning, you might either record your songs yourself or with a producer or engineer you know, then distribute them. Most of the booking will probably be done by you at first, but once your gigs start earning enough money, you'll hire an agent. When managing social media, email, and planning becomes too challenging, you might turn to a manager for assistance. Additionally, you might eventually start working with a record label or another significant distribution partner.
Add team members, when the needs arise
As we saw in the above two examples as the needs arose, the team gradually grew. It's okay if your early team is made up mostly of close friends and relations!
Additionally, it's crucial to keep in mind that many team members join when there is a financial incentive to do so because they need to support themselves as well. For example, agents receive a percentage of the money you earn from live performances, so, they won't be too interested in a gig where you earn only a few dollars.
Distribute roles and responsibilities among team members
The ability of the band members to work together as a team in the early stages of their careers is a really crucial skill that many music artists overlook. You'll accomplish much more if you divide tasks among the team members because each one has unique talents and skills to offer.
You must start by viewing the tasks that need to be completed. You might need to interact with your fans and post on social media frequently. Write weekly newsletters for your email list if necessary. Perhaps you should be contacting venues to make bookings for gigs and will also require to advertise those gigs. Additionally, you may need to get a few photos for promotion or design a simple t-shirt to sell at your shows.
Contact ZOOM Recording Studio in LAs for getting professional photographs and videos.
Once you have got all this on your list, discuss who might be the fittest person in your team to complete each task. Does anyone have any recommendations for talented photographers, artists, or website designers? Is one person more at ease approaching individuals and promoting your music to venues? Is anyone who loves social media and spends hours online? Consider the individual strengths of each team member and divide the tasks accordingly.
Once you start distributing the tasks, you can finish them much more quickly and move on to new projects and objectives.
How to find the right person for your team
Networking is essential to growing in the music industry, and LA is no exception. Meet industry professionals by attending conferences, shows, and events. Make connections with business people on social media sites like LinkedIn and Twitter to develop relationships. To meet industry professionals, look for groups like the Recording Academy, the American Association of Independent Music, and the National Association of Music Merchants. Spending time for audio recording sessions or mixing and mastering services at the best recording studio in LA also help you meet industry professionals.
Ask for recommendations from other music artists or business people you know. They might be able to suggest a former coworker who would make a good addition to your team. Referrals are an excellent way to find experts with a track record of success and build rapport quickly.
Conduct interviews with the potential candidates once you've identified them to see if they'd work well with your team. Inquire about their background, previous accomplishments, and method of working with artists. It's crucial to select experts who support your vision and are dedicated to assisting you in achieving your objectives.
Collaborate with other music artists
Creating a music team involves more than just hiring experts; it also involves working effectively with them. Create clear channels of communication, set goals and objectives, and collaborate to meet them. Be receptive to the opinions and recommendations of your team because they may have insightful and knowledgeable advice to share.
Build Long-Term Relationships
Building a music team is a process that requires constant cooperation and communication rather than being a one-time event. Respect them, compensate them fairly, and share your commitment to their success with your team members. Your music team and you can work together to develop long-lasting relationships that will help you succeed in the music industry.
Conclusion
A strong team of music industry professionals to support you is essential if you want to build a successful music career in LA. You can gradually add team members and expand your music team to accomplish your objectives.
ZOOM Recording Studio, the best recording studio in LA, can help you achieve your goals by offering you a rental studio, audio recording sessions, mixing and mastering services, professional photography, and videography. We also offer regular tips and tricks to succeed in the music industry and keep you updated with the industry through our blog posts and videos.
For more updates, follow us.