Enhance Your Song with Online Mixing and Mastering Services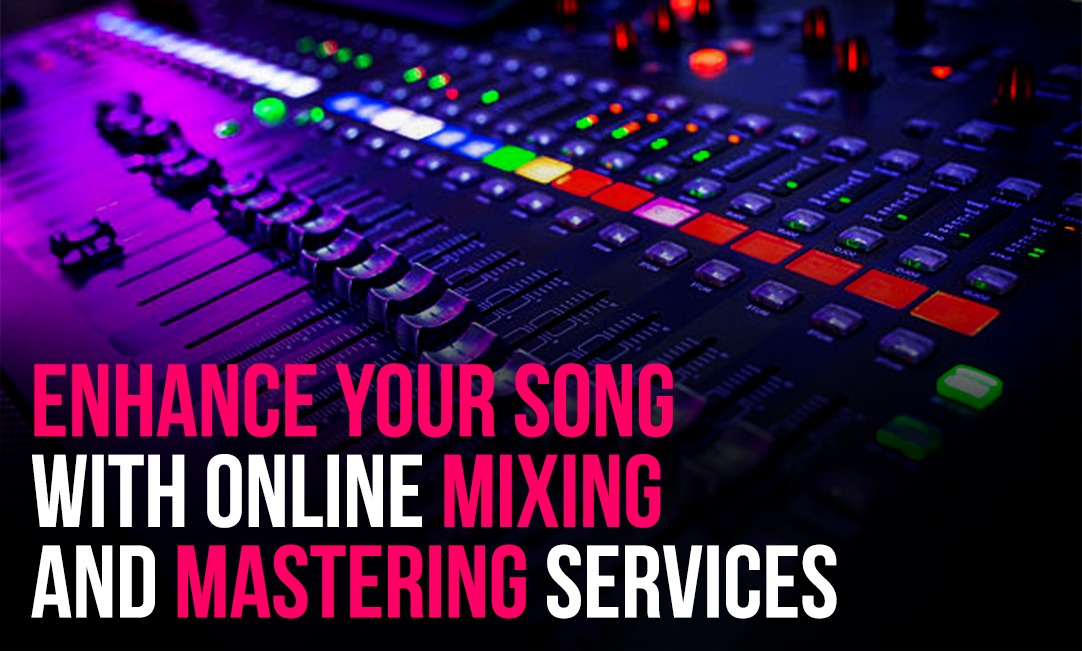 When it comes to music recording and production, audio mixing and mastering are some of the most critical factors to consider. This is the primary reason why any artist should have their song professionally mixed and mastered.
There are countless reasons and benefits to mixing and mastering your music and hiring a talented and mastering mixing engineer to do it. Before the audio is mastered, you'll need to modify and combine individual tracks in your stereo audio files. The goal of these services is to produce clear, polished music, which starts with hiring a professional mixing engineer.
Several artists from remote areas or far-off places find it difficult to get their music mixed and mastered professionally. There may be budget issues, travelling complications, less knowledge about the professional studios of, and mastering, and many mixing other undefined reasons. To assist such artists, ZOOM Recording Studio has come up with online mixing and mastering services. With our online service, anyone across the world can enhance the quality of their music.
What do Mixing and Mastering do to your song?
Audio Mixing is a common term among music artists. It's a process that combines multiple things to get the best version of the song. Various processes undertaken during mixing are:
To get a clean EQ or equalization through the fine-tuning of the sound of different instruments.

To balance pre-recorded track levels.

Panning, the process that entails each instrument to be placed in the right stereo spectrum.

Mix engineers use compression, add reverbs, delays, and other effects to improve the quality of the already recorded songs.

Automation is the process to program certain pans and fades into different parts of the track. It's a complicated process and is done by trained engineers who know when and where to automate.
Now comes Mastering of the song. Mastering gives the final touch on the song by enhancing some of the sonic characteristics. In this final phase of music production, sound engineers adjust levels, apply stereo enhancement and monitor for clicks and pops or any such flaws that can distract the listener from the music. What we get from mastering is a polished, clean sound, optimized for the free-flowing of the song through different formats and systems.
Thus, Mixing and Mastering are different technical phases in song production. These processes recreate a dull and lifeless track to something lush and full. Often music artists try to accomplish these tasks on their own using tools available in the market or by using online tools. These may help you in some cases but cannot compete with talented and mixing mastering engineers.
To get the desired result, it's not just enough to know how an instrument works but also training and experience. Professional audio engineers are trained and have experience. They polish your songs and albums and make them ready to launch, in a professional recording studio. These studios are well-designed and equipped with all the tools and technologies that aid in creating your compositions from good to masterpiece. But the distance, extra cost of traveling and stay, etc. may stop you from availing of such valuable services.
Online mixing and mastering services are as good and effective as offline services
ZOOM Recording Studio, a professional recording studio is there to help out millions of artists from across the world. Our well-known studio is a complete recording and production facility. We have the most talented, experienced, and Grammy awarded audio engineers who can work on various genres and styles. Our engineers use different mechanical tools instead of AI to edit, improve and polish your tracks. This gives us an edge over others as what we produce has a human touch and is more appealing to the listeners. Our recording and monitoring rooms are designed and well-equipped to get the best result.
However, our recording studio is not just limited to offline services, we also offer you as good and as effective online mixing and mastering services. We use all the facilities and amenities even if you email us your songs and albums from the comfort of your home. The online and mastering service provided by ZOOM recording studio has the separate functioning of and mastering of mixing songs by mixing different professional engineers and teams. With these online services, you get a taste of what professional mixing and mastering can do to your compositions without spending extra money, time, or energy on traveling or staying away from home.
Online Mixing and Mastering services from ZOOM Recording Studio offer various packages for you to select from. The details of the packages are available on our website.
CONCLUSION
Your music must be on par with the music that will be played next to it. You want your music to stick out on the radio because it's amazing. Get your recordings appropriately mixed and mastered to give yourself the best chance of being heard. ZOOM Recording Studio provides you with the best online mixing and mastering services, for more details visit our website.