How to Build Your Fanbase in Los Angeles: Tips for Live Shows and Online Engagement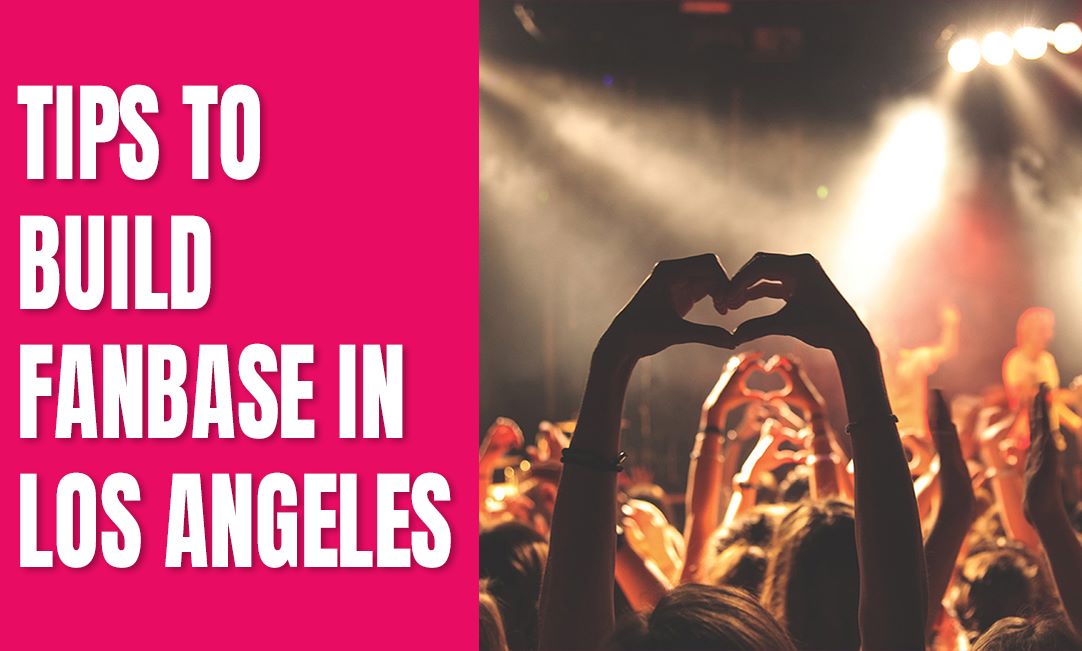 Date: 24-April-2023
Music artists who want to succeed in the music industry must first develop a fan base. With its thriving music scene, Los Angeles offers numerous opportunities for aspiring music artists to realize their goals. It is an ideal place for music artists from different genres to expand their fan base through live performances and online interaction and succeed in the music industry. In this blog, let us look at some tips for performing live shows and making online engagement to build your fan base in Los Angeles. However, you must first identify your genre and work accordingly.
Top seven tips for live shows and online engagement for music artists in Los Angeles
1. Collaborate with local DJs and other music artists.
Collaborating with music artists and local DJs can be a great way to expand your fan base. It not only exposes you to their fan base but also enables you to network within the music industry. Offer to work with local DJs in Los Angeles who play your genre of music (eg, hip hop, pop, rock, EDM, etc.) on new songs or performances. DJs frequently have a sizable fan base, so working with them can help you get in front of new listeners.
Also, you must seek out chances to work with other music artists in your genre or even those in related ones. You and your collaborators can share each other's music with your respective fan bases or collaborate on performances and songwriting.
2. Attend music events
Los Angeles, with diverse music scenes and ample opportunities, is home to some of the most exciting music events, including music festivals and music conferences in the world are held in Los Angeles. These events are fantastic places to listen to live music, discover new music artists, socialize with other music fans, and discover new musical genres. Among the many music festivals held each year in Los Angeles are the Coachella Valley Music and Arts Festival, the Sunset Strip Music Festival, and the FYF Fest. Some of the upcoming music events in LA are Mentors and Mimosa Gala, Drop the Needle: Remixing the Music Industry, The Music Conference for Introverts, and more.
Look for music events in Los Angeles that are specific to your genre of music. Network with other industry professionals, influencers, and potential fans by attending these events.
3. Build relationships with local venues.
Los Angeles has venues of all sizes that host live performances from different music genres every night of the week. Make sure to attend open mics, concerts, and shows. These are great ways to connect with fellow artists and discover new genres and styles that you might not have explored before.
In Los Angeles, you can attend music events at these venues where you can get an opportunity to showcase your musical talent and skills. Develop connections with the owners and promoters of local Los Angeles venues that play your genre of music. In order to gain exposure and establish your artistic reputation, offer to perform for free or at a reduced cost.
4. Utilize music blogs and online publications.
The most difficult task for artists is getting their music heard. Getting your music featured on music blogs and online publications is a good way to market it and attract new listeners.
In Los Angeles several genre-specific music blogs and online publications are available. Get in touch with them and ask them if they would be interested in featuring your music. Send them your music, recorded and produced at the best recording studio in Los Angeles, for consideration. You can expand your audience, gain more exposure, seize new opportunities, and establish your artistic credibility by doing this.
Music 3.0, Aquarium Drunkard, Underground Hip Hop Blog, Grimmy Goods, LA Records, Los Angeles Times, Music Connection, and others are some of the best music blogs and publications in LA.
5. Be active on social media platforms
As a music artist, you need to have a strong online presence where you can showcase your music, upcoming performances, and other related news. Create accounts for social media platforms, such as TikTok, Facebook, Instagram, and others. You can connect with your fans, other music artists, and industry leaders through these channels.
Consider making content specifically for TikTok to appeal to a younger audience. It has become a popular platform that caters to different music genres.
Be consistent with your online profile and update it with compelling content to maintain your fan base and keep your audience interested.
6. Create engaging music videos.
Music videos are an effective tool for spreading the word about your music and increasing your fan base.
A music video that is compelling, intriguing, and unique has the potential to go viral instantly.
Don't be afraid to think outside the box when creating a video for your most recent release.
A fantastic idea is to record a traditional music video, visuals for a live performance, or a video of your recording session at the best recording studio in Los Angeles. Additionally, you can put thought, care, and effort into creating your videos, which could be very profitable.
Invest in professional music videos that represent your identity and aesthetic, and advertise them on different social media platforms for greater reach.
Some of the best venues for music artists in Los Angeles are The Mint, Los Globos, The World Stage, Hotel Café, The Virgil, UnUrban Coffee House, and more.
7. Offer Merchandize
Besides, creating exclusive content, such as behind-the-scenes footage and unreleased tracks, you must offer exclusive merchandise to your loyal fans. Merchandizing is another great way to develop your brand and make money. It helps to spread the word about your music. It can be done by creating marketing merch, such as t-shirts, hats, and posters, with your brand logos or album art. Selling your goods online or at live events is a great way to interact with your fans and create a loyal following.
By using some of the top-rated merchandise sites for bands, artists, and DJs in the industry, such as Shopify, Big Cartel, Printful, Dizzy Jams, and others, you can easily sell your products to fans at your convenience. This can help you build a strong fanbase and generate additional revenue.
Conclusion
It takes time, effort, and dedication to build a fanbase in Los Angeles, however, by using these tips, you can achieve your goals.
The best recording studio in Los Angeles, ZOOM Recording Studio , aids aspiring musicians in creating professional-caliber music through recording and production. Music artists can record their songs using advanced technology in a soundproof environment, and skilled sound engineers can then mix and master the recordings to make them even better. You can use the music, created and recorded at the best recording studio in Los Angeles, for engaging your fans on social media platforms.