How to Create a Wikipedia Page for an Artist or Band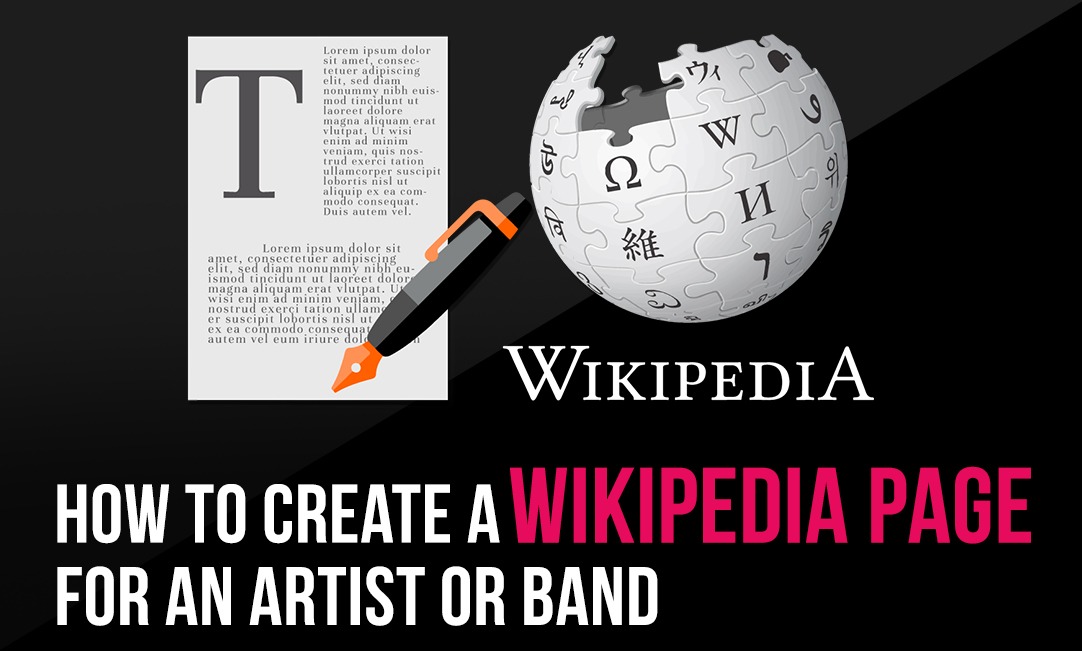 You must be thinking, why a Wikipedia page for an artist?The music industry is highly competitive. To be successful, you must make wise decisions. You need to adopt the safest tricks that can lead you through a hassle-free path to achieve progress. Wikipedia, without a doubt, is the best platform that pushes you forward and stabilizes and flourishes your search engine. Thus, getting a Wikipedia page for an artist or a band does incredible things that immediately fetch you artistic credibility.
Every day several thousand of Wikipedia pages are created, but not every page gets acceptability and is published. There are certain steps you can take to increase your chances of having a page accepted & published by the watchful Wiki gods. ZOOM Recording Studio, a professional recording studio, which is a one-stop destination for recording and producing music, guides you on how to create a Wikipedia page.
Can you get a Wikipedia page?
Wikipedia is run by a variety of volunteer editors from all over the world who decide what gets published online and what doesn't.
It's difficult to get a Wikipedia page for you, particularly if you're an emerging artist. They are only available to musicians who can convince a Wikipedia editor that their name deserves a special page.
Therefore, while creating a wiki page, you too need to demonstrate your merit for a Wikipedia page. If you're still relatively new to the music industry and haven't yet accumulated any evidence in the form of notable online news stories or PR written about you, you should wait and collect them.
Currently, it's difficult to say with certainty if you'll land one, but here are some things you can do to increase your chances.
5 incredible tips to secure a Wikipedia page as a solo artist or a band
1. Check for the principle of notability
Starting off with what is arguably the most crucial piece of advice: in order to secure a Wikipedia page, your music or band must be of "noteworthy" status, which means you must have concrete, tangible proof of your notoriety or "claim to fame ."
According to Wikipedia's "speedy deletion" policy, pages that lack supporting documentation regarding their significance are subject to deletion on the grounds that they "have no indication of importance."
This means that in order to showcase your music in the best possible light, you'll need to make it clear what you're known for by citing anything your critics have said about you, anything that has brought you to the attention of the public , or any mentions in the general public media but make sure it should be only good news.
2. Be neutral
Wikipedia accepts and publishes pages on the condition that the content is written in a strictly neutral and unbiased manner. Therefore, though it may be tempting to write something like, "You're the greatest artist of the decade" or so, avoid such acclamations.
So, if you use Wikipedia to promote yourself, you run the risk of having your page rejected or even permanently deleted. Judge the content from the reader's perspective: does it sound promotional and overly personal? Or does it sound balanced and perceptive?
3. Make use of verified sources and references
The BEST way to prove what you're saying about your music or band is to include sources and references. They are, however, meaningless to third Wikipedia unless they come from reliable, verified parties.
This may include:
· Article reviews, such as those found on music blogs
Mentions of your brand or music on the internet
Appearance in a reputable magazine or newspaper
Besides these, you are free to use any others you come across. But keep in mind that all of the sources you use must be unbiased, which often means they must come from an official, independent body. Unverified sources, such as Facebook status, should be avoided.
4. Get the write-up done by others
The best way to get yourself listed on Wikipedia is by hiring someone else to do the writing task for you. Do not rely solely on yourself to obtain the desired outcome.
As was previously mentioned, Wikipedia only accepts objective articles. Therefore, one of the first things that will cause your page to be deleted is probably something you wrote yourself or had one of your band members write. After all, it's challenging to avoid bias when writing in the first person.
And by no means does this imply that you ask only a stranger. Any contribution from a friend or relative can solve the purpose!
But finding a regular Wikipedia content contributor to write your entry is the best way to increase your chances. A well-known name could be the key to your success because Wikipedia monitors and sees who contributes to the articles.
5. Provide the details.
Maximizing the amount of detail you provide will help increase your chances of being listed, just as listing as many "noteworthy" qualifications as you can will. Make sure that whoever is writing your page has all the crucial data, available to him/her, such as
Your honors and achievements
Past discographies
Present-day band members
Dates of previous and upcoming performances or live performances
Lineup alterations
Keep in mind that relevant information also qualifies as important information.
What would still be significant to readers if you were reading this article for the first time 100 years from now?
Conclusion
As we have stated above, there is no way to completely predict whether or not you will be able to secure a Wikipedia page for your music. This is because there are so many new and emerging artists that Wikipedia is forced to set a cap on the number of artist pages it can actually publish.
But if you adhere to these five tips, you'll be able to increase your chances of getting a ticket to own a Wikipedia page.
ZOOM Recording Studio, a professional recording studio provides you with several music production services. At our studio, you can avail of services such as recording, mixing, mastering, production, podcasting, audiobook production, vocal production, tuning and editing, beats, private events, photo and video, and business consultations. For any music-related services, feel free to connect with us.