How to Prepare for Your First Studio Recording Session in Los Angeles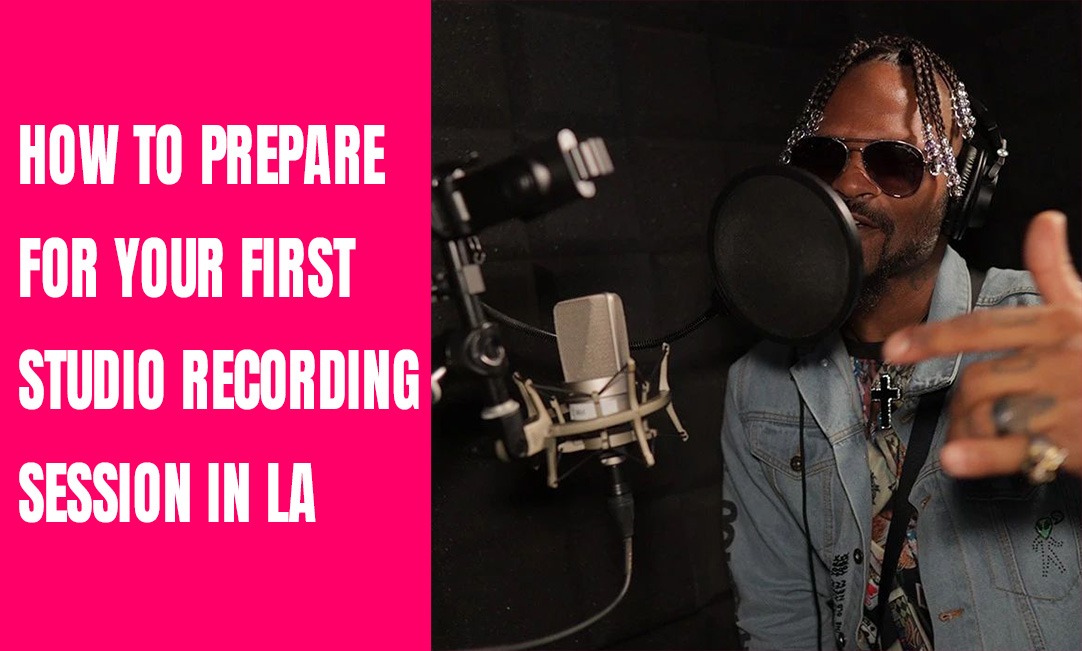 29-Sept-2023

So you've taken the plunge and scheduled your first studio recording session in the music capital of the world, Los Angeles! Congratulations on reaching this exciting milestone in your musical career. Recording in a professional studio can be a game changer for you, whether you're a solo artist or a voice-over artist. However, to make the most of this opportunity, you must be well-prepared. In this blog, we'll walk you through the steps to ensure a successful and productive first studio recording session in Los Angeles.
Practice will make you perfect and save time: Before you enter the Los Angeles recording studio, be sure you are comfortable with your material and have had plenty of practice. Studio time is undoubtedly expensive hence try not to waste your time figuring out parts or lyrics.
Be Ready with Your Background Music (Instrumental/Beat): Download the instrumental or beat onto a flash or hard drive to record it. By doing this, you can save time and make sure the track is compatible with the studio's hardware and software.
Plan and Estimate Your Session Time: Prior to your session, decide what you want to accomplish and how many hours it will take. Share this information with your studio or engineer when reserving studio time. If you're unsure of the duration of your first session, click here https://zoomrecordingstudio.com/quiz/ to take an online test to get an approximation for studio time.
Acquaint yourself with the Studio: Before you begin recording, get acquainted with the setup and equipment of the Los Angeles recording studio. You'll feel more secure and in control if you know where everything is and how it operates.
Hire the Right Engineer: If you already know the engineer you want to work with, ask them for a recommendation on a studio. Don't worry if you don't have an engineer; many studios, including ZOOM Recording Studio, have in-house skilled engineers who can help you with the recording process. These engineers are highly proficient at working with first-time music artists. Take time to choose an engineer who can help you realize your vision and understands it. Doing so can have a significant impact on the quality of your recording.
Remember to Bring Your Own Hard Drive or Flash Drive: So that the engineer can transfer all files at the end of the session, carry a flash drive or hard drive with you. It's critical to have your storage since most Los Angeles recording studios do not store clients' files.
Be Receptive to Feedback: Your engineer is there to assist you in getting the best recording possible. Work with them to realize your vision, and be receptive to their criticisms and suggestions.
Take Breaks and Remain Hydrated: Recording can be mentally and physically taxing. Take breaks to refuel, grab a bite to eat, or go outside for some fresh air. You'll be able to stay alert and motivated the entire session with its assistance. To keep your vocal cords hydrated and prevent fatigue, drink plenty of water. Avoid alcohol and caffeine because they can dehydrate you and impair your performance.
Stay Positive and Have Fun: Particularly for beginners, recording can be a mix of excitement and trepidation. Keep a positive attitude and relish the journey. Recording sessions are about growth and improvement, so try not to be too hard on yourself if things don't go perfectly.
Conclusion
It may seem overwhelming to get ready for your first studio recording session in Los Angeles, but with the right attitude and preparation, it can be a wonderful experience. Always remember preparing in advance, communicating clearly, and maintaining an open mind will bring out the best in your music. Have faith in your skills and the knowledge of the professionals in the studio. Wishing you luck as you work to create your masterpiece