Is Spotify promotion worthwhile for independent artists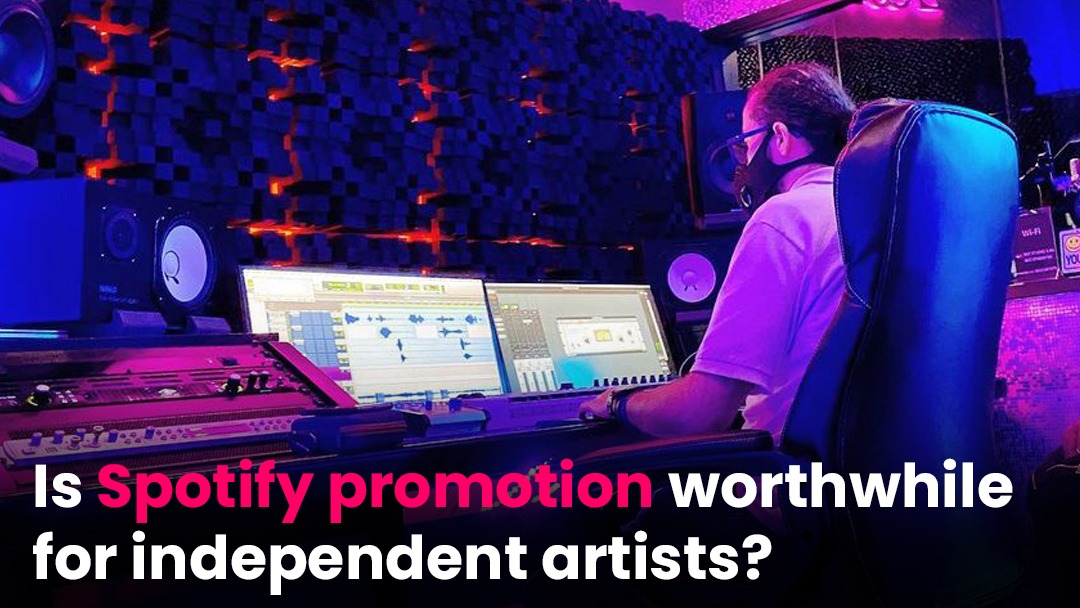 You have poured your heart and soul into your music, but how will you attract listeners and develop a fan base?
Music Promotion is indeed one aspect that troubles an independent artist the most.
Many independent artists battle whether they should pay for promotion on Spotify, go for visual banner ads, or do audio advertisements.
In this article, we'll examine the economics of a Spotify promotion campaign and decide whether it is worthwhile for independent artists.
Ways of promoting music on Spotify
Spotify, undoubtedly, is the best streaming service for independent artists to promote their music.
Spotify offers two types of promotions - paid and organic.
Organic promotion is free, but it depends on how you use Spotify's tools to grow your audience through playlisting, follows, and likes.
Other is paid promotion, which entails paying Spotify to promote your music to its listeners.
Let us briefly discuss here these two ways of promoting music on Spotify.
Know about the paid Spotify promotion
Spotify offers two options for paid promotions. One is the audio and video ads that play to free users in between streams, and the other is the marquee banner, which appears on every Spotify user's home page.
All you need to know about these advertising choices is provided below.
Spotify Marquee Advertisement
It is doubtless the most beneficial but expensive form of paid promotion offered by Spotify.
If you purchase a marquee placement, both free and paid Spotify users will see a prominent full-page advertisement for your music.
The user is taken to the music you're promoting if they see your advertisement and click it.
However, it is only artists with more than 2,500 followers or 15,000 streams in the last 28 days are eligible for Marquee.
Therefore, in order to use the feature, you must have some of the following. Additionally, because US billing is required, you must be a member of a US-based team.
If you want to run marquee ads, you'll need to invest a good amount of at least $250. The budget is used on a cost-per-click basis, so you only pay if someone clicks the marquee.
A few digital marketing segmentation options, including Spotify Marquee, will help you fine-tune ad targeting and guarantee that you only serve Marquee placements to the appropriate audience.
Spotify Ad Studio
Ad studio on Spotify allows brands and artists to promote themselves through audio and video ads that play in-between streams for free users.
For this, you must create an account on the Ad Studio website to access the audio and video advertising options there.
You can either submit your own audio for review and approval by Spotify. Or, you can collaborate with Spotify to develop a custom advertisement.
This option focuses more on reaching than engaging with a particular audience; since your ad will not generate clicks, you will pay for impressions instead.
Is it worthwhile to spend on paid Spotify promotion?
If you are an established artist, Spotify Ad Studio helps as these advertising tools cater for businesses promoting goods and services.
On the other hand, Spotify Marquee is a better option for an independent artist.
However, be wise in making an investment in this kind of ad placement. Such advertisements help, but it only makes sense if you're making a significant move with a recent release gaining momentum.
The money you spend on a marquee advertisement will probably be better spent elsewhere if you are not in a strong position for a break-out.
Always keep in mind that this type of advertising strategy performs best when you adopt a wide-promotion strategy for a recent release.
Get a marquee placement, for instance, if you have a label supporting you.
However, if you're placing all of your chips on a chance, one-time marquee placement, you might not get the outcomes you're hoping for.
Now let us discuss the Organic ways of Spotify Promotion
Organic ways of Spotify Promotion depend on the ability of an artist to build and engage with their audience. Here, are a few tips that you can use to promote your music on Spotify without paying anything.
1. Encourage your fans to like and follow your page
Use your social media following to keep your fans informed of what's happening on your Spotify page.
Additionally, let them know how much you'd appreciate it if they saved, liked, and followed your page and tracks.
This type of fan interaction is a strong indicator to Spotify's algorithm that your music is valued and important by a large audience.
Additionally, if your tracks were suggested by the algorithm, other listeners who are similar to those who enjoy your music might also find them appealing.
2. Create a profile on Spotify for Artists.
Working with a music distribution service is necessary to get your music on streaming services. Today, we have several distributors in the market. You should definitely create your profile on Spotify for artists if you haven't already.
With access to Spotify for Artists, you can create a custom playlist that lives on your profile, edit your profile art and bio, and track information about who is streaming your tracks.
Making your profile unique makes you appear more serious and attracts fans who will visit it frequently.
Additionally, having a well-written artist bio that includes links to your social media fans enables new listeners to discover more about you and your social media accounts.
3. Submit your upcoming releases for playlisting
Spotify is the only streaming service that accepts playlist submissions for its numerous playlists.
So, if you have any, don't wait. Go ahead and submit your release.
Log in to your Spotify for Artists profile and submit your music for playlisting if you have an upcoming release.
This tried-and-true Spotify promotion strategy is by far the most effective way to find new ears and attract new fans.
4. Start a pre-save campaign.
Running a pre-save campaign is another fantastic option to consider if you have an upcoming release.
When you run a pre-save campaign, you nudge your fans to save your song in advance so they'll be alerted when it drops and have it added to their library.
It's crucial to generate a tonne of buzz on the day of your release in order to inform Spotify's algorithm that your music is being listened to and is valuable for playlist cues.
You only need a promo link that points to the pre-save campaign landing page from your social media account to launch a pre-save campaign.
5. Add lyrics
Adding lyrics that play when your tracks are played is another way to keep your listeners interested in your music.
It's incredibly simple to add your lyrics to Spotify; all you have to do is sign up with Muixmatch and do it.
Your lyrics will be sent via this to Spotify and all other streaming services.
Conclusion
Now, having gone through the blog, do you feel Spotify promotion is worthwhile for an independent artist?
Definitely, the answer is 'Yes'.
Spotify helps you to have a wide presence which in turn will help your music career to advance.
ZOOM Recording Studio, a professional recording studio, supports upcoming artists in producing their music. We offer several music-producing services such as studio rentals and mixing and mastering services. Additionally, we also offer professional photo and video shoots that you can use during music promotion.
For any such services, contact us.