How to Choose The Right Studio Space for Your Project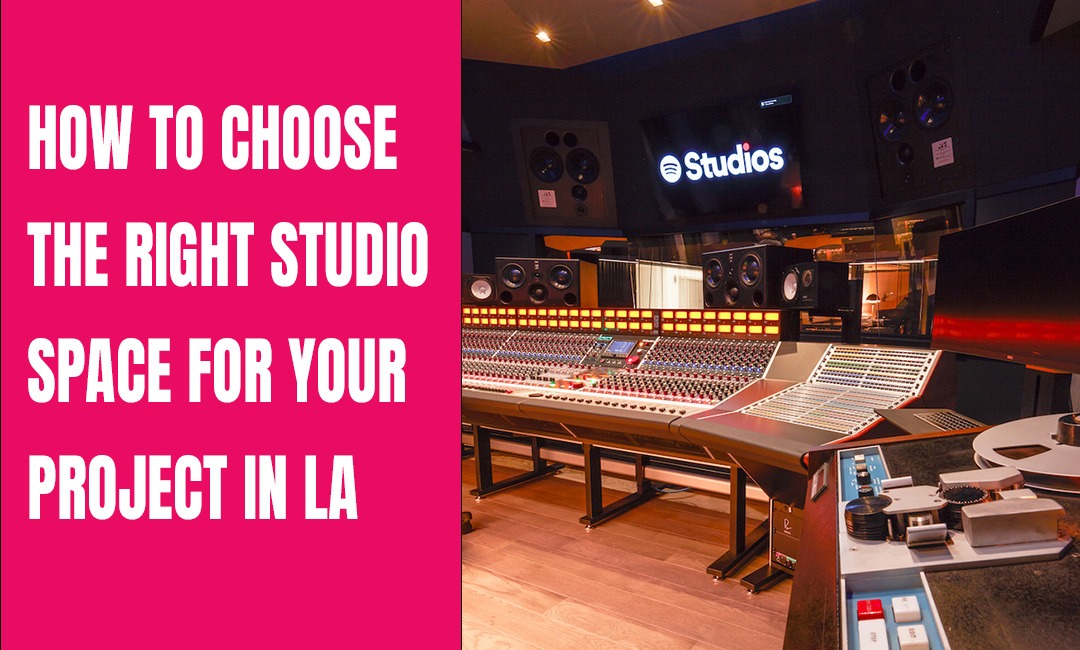 24-July-2023

When it comes to music recording, there are more options than ever before. Thanks to the rise of the independent studio. It gives the music artist power, but narrowing the options can be difficult.

To help you decide, read the checklist below that will help you narrow down your options and help you to choose the top studios in Los Angeles.
Factors to consider before choosing a recording studio in LA
Before diving into the studio selection process, clearly define your project's needs and determine your budget for studio rental, including the cost of engineers, equipment, and additional services. Your budgeting will also depend on the size and complexity of your project and services, such as mixing, mastering, or post-production that you may require. Budgeting is very crucial as studio time is expensive. Studio rates depend upon the kind of services you get. In Los Angeles, you have the option to rent studios with or without the assistance of an engineer. The usual rate for a recording session ranges from $75 to $100 per hour for a standalone rental, while the rate for a rental with an engineer typically falls between $100 and $120 per hour. Additionally, there may be charges associated with the usage of studio equipment. Regarding mixing and mastering, generally, most recording studios charge separately for these services as they require advanced engineering skills. However, at our recording studio in LA, we found it more convenient and transparent for clients to pay a flat hourly rate so that they can understand the final cost of the sessions without having to pay any unexpected extra fees.
To begin with, you must look for top studios in Los Angeles, which is both affordable and the best. In establishing your budget, you should know that recording may take longer than anticipated. So, you must plan to reserve a few more hours than you have planned.
Traffic in Los Angeles is widely known for its challenging nature, making it wise to seek out a studio that is at most a 30-50 minute drive away. This way, you can avoid potential frustration upon arrival for your session. It is also crucial to inquire about parking availability at the leading studios in Los Angeles ahead of time. Adopting this proactive approach will help you effectively manage your time and prevent any delays that could result in tardiness for your session.
Furthermore, it is imperative to search for recording studios in prime locations within LA that offer multiple options. It makes traveling to and locating recording studios in such areas much more convenient.
Once you have shortlisted the top studios in Los Angeles, look for their sound quality. Try to pinpoint what it is about the recordings that appeal to you as you listen to sound samples. Compare that to the studios you are thinking about. Every studio has its website or/and social media account which may contain sound samples. Listen to them and analyze them. Do the samples seem appealing? Do they resemble the sound you are going for? Are there any examples like yours posted there? If not, request some sample recordings of music artists they've worked with that are in your genre via email. Usually, if you approach them seriously, they'll be happy to assist you in determining whether they're a good fit.
Hopefully, by this point, you must have identified a few top studios in Los Angeles that fit your budget. The next step is to decide what kind of tools and resources you'll require. The majority of studios—but not all—will have a variety of musical instruments that clients can use or occasionally rent for a fee. Look for the studio's equipment inventory, including microphones, mixing consoles, and software ensuring the studio has the essential tools to bring your creative vision to life.
Next is to know the size and acoustics of the recording spaces. Larger studios might be appropriate for live bands, whereas smaller studios might provide a more personal recording environment.
Also, verify whether the studio has amenities like cozy lounges, kitchens, and parking.
Choose recording studios with a good track record and excellent client testimonials. Ask other music artists, industry people, or online communities for recommendations. Also, go through reviews of the studio on Google, Yelp, etc. ZOOM Recording Studio is one of the top studios in Los Angeles that help aspiring and seasoned music artists in pursuing their careers in the music industry. The studio, located in one of the prime locations, is an affordable recording studio in LA with all the facilities and amenities of the best recording studio.
Why should you choose ZOOM Recording Studio?
ZOOM Recording Studio, a professional recording studio in LA, has several features that will benefit you.
At our top studio in Los Angeles, we have the best acoustic and sound quality that prevents unwanted echoes, background noise, or any other acoustic issues that could impact the final sound.
Our staff and Grammy-nominated engineers are cooperative. You can interact with them to gauge their professionalism, expertise, and willingness to understand your creative vision.
At our recording studio in LA, we promote a collaborative environment to facilitate effective communication and offer you a successful recording experience.
We believe a conducive and inspiring environment can greatly enhance your creative process and therefore we also have the best ambiance in the studio that makes you comfortable.
Moreover, our top studio in Los Angeles offers no hidden charges and makes available the same day session.
Conclusion
Selecting the best recording studio is crucial and can greatly influence how well your music project turns out. So, consider the factors mentioned above and make a wise decision.