LA Studio Secrets: A Step-by-Step Guide from Demo to Master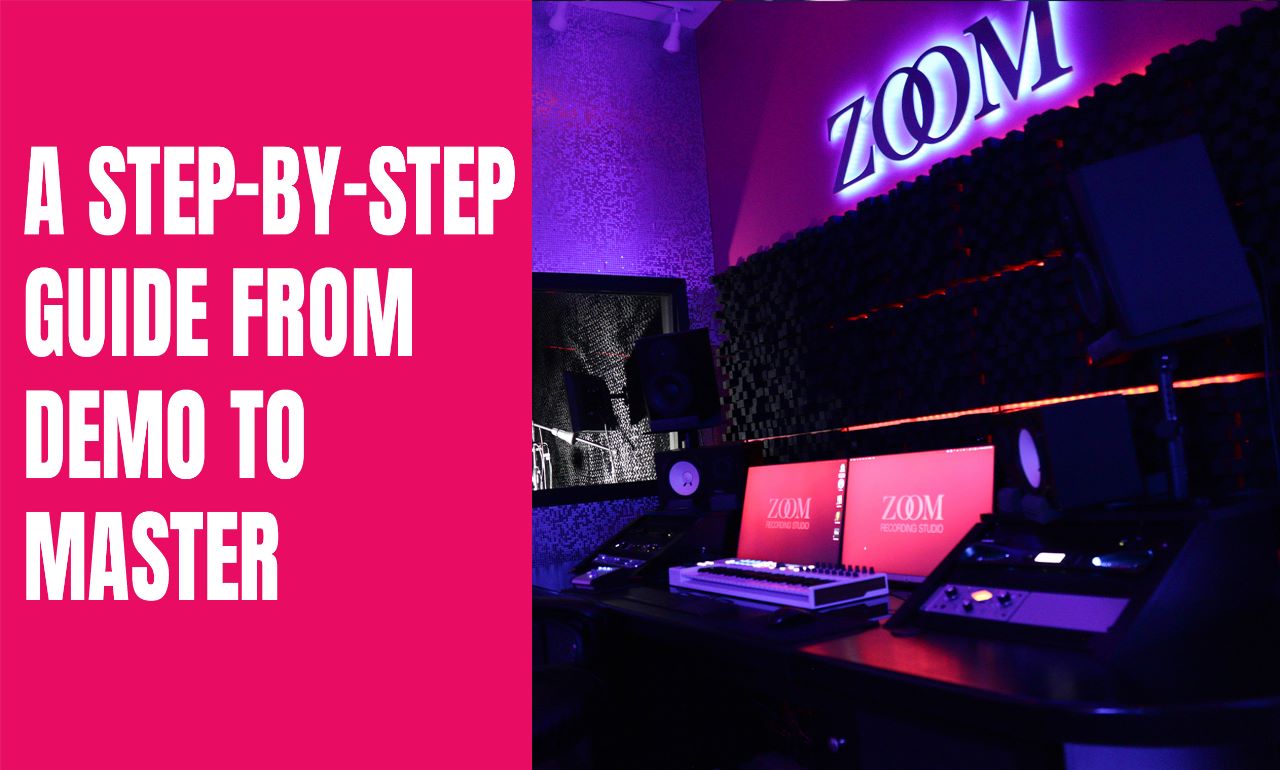 Date: 20 May 2023

Los Angeles, the entertainment capital of the world, is the home of some of the biggest record labels, recording studios and music producers. It is not surprising that so many aspiring music artists choose to record their music in the city. If you are planning for an LA recording studio, it can be challenging, especially for those who are just getting started. This
step-by-step guide will help you know how to record music in Los Angeles
and create a masterpiece from the demo.
Step 1: Write Lyrics or hire songwriters
The first step in music production is to have a song available to us. If you have a natural flare for a writer, you can pen down the lyric yourself. Write and rewrite it until you're satisfied with it. However, if you cannot write one, don't worry! Hire a songwriter who can compose one for you. Communicate your vision and ideas to the songwriter. As a music artist, it's critical that you have a distinct vision for the sound and message you want to convey with your music.
Step 2: Buy/create background music (instrumental, beat)
The next step, before entering the LA recording studio, is to set background music for your lyrics. If you have the necessary skills, go with it. Create background music that goes well with your song and vocals, using various equipment and music composition techniques. If you don't have the required skill, hire a professional who could do the job for you.
Besides these, you still have another option. Today, we have several music sites that will generate perfect tracks aligning with your song. Some of the best music sites from where you can buy background music are Epidemic Sound, AudioJungle, Free Music Archive, SoundCloud and more.
Step 3: Practice at home
Before going to an LA recording studio, it's crucial that you practice your music thoroughly. If you don't properly practice, you'll be missing beats, singing off-key, and you'll forget the lyrics. Additionally, because of these unwelcome delays, your recording time will be unnecessarily extended. Recording sessions at a recording studio is always an expensive affair. If there are delays of any kind during recording, the cost of production would also significantly rise.
Step 4: Research a studio
A crucial step in recording your music at a LA recording studio is to find the best recording studio that will give help you obtain the best result. For this, you need to do some research on the recording studios. Once you have made a list of a few studios, try to know who recorded at those studios, what tools they possess, do they specialize in a certain genre, what are reviews and ratings of those studios, what is their rate per hour, are there any hidden charges and so on.
Step 5: Choosing the engineer/producer
You should not only consider looking for the best recording studio but also consider the sound engineers and producers who would be working with you on the project. It's fine to record and mix your own album if you're an engineer yourself, but it's often preferable to have a professional set of ears to ensure that you get the best recording possible. At ZOOM Recording Studio, our Grammy-nominated engineers are well-versed in a variety of genres and styles and will help you get the desired sound for your music. Get a pro sound engineer to fully realize the potential of your song if you're going to spend money on a top-notch LA recording studio.
Step 6: Book a studio session
Once you have selected a recording studio, book a studio recording session. At the best LA recording studio, you will get services, such as vocal recording, mixing and mastering. To know how many hours will be required for the recording session, click here
Your producer will walk you through the procedure and ensure that you receive the best performance possible. If something seems to be off, don't be afraid to ask questions or offer suggestions.
Your songs must be mixed and mastered after they have been recorded. To produce a unified sound, mixing involves balancing the levels of each instrument and vocal track.
Making final adjustments to the songs' overall sound during mastering ensures that they will sound great on all playback devices.
Step 7: Distribute and market your Song
Once your music is mixed and mastered at LA recording studio, it's time to release it. You have the option of working with a record label or self-releasing your music. Make sure to upload your music to streaming services like Spotify and Apple Music if you're self-releasing. Additionally, you can sell physical copies of your music at events or from online merchants.
Step 8: Celebrate your accomplishment
Celebrating achievements, whether it is big or small, is crucial. With the release of your musical project, you have given the world a piece of art! It takes months of arduous work, communication with your team and conflicts with yourself, touch-ups, unforeseen circumstances, surprises, and planning and strategizing your social media communication. You must therefore finish this cycle, celebrate, and publicize the release of your musical project when you make it available to the general public. You can do this in several ways. Throwing parties is one of the most popular ways.
Conclusion
It can be exciting and rewarding to record in an LA recording studio. You can transform your music from a demo to a master with the appropriate planning and direction. Take your time, enjoy the process, and don't be shy about seeking out help when necessary.
ZOOM Recording Studio in Los Angeles is one of the ideal places where you can record your music. Here, we offer music artist studio rental with three options: use the studio with no engineer, with reboots skilled engineers or with advanced skilled engineers.