Making a Name for Yourself: Tips for Self-Promotion in the Los Angeles Music Industry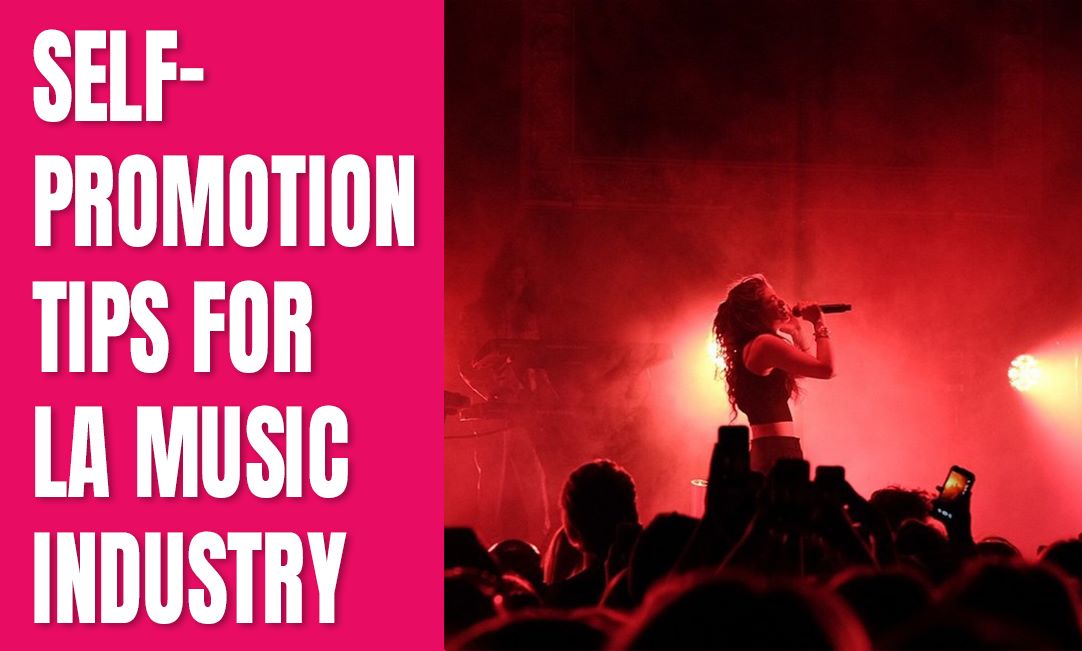 Date: 13-Apr-2023
The music industry in Los Angeles is highly competitive, where thousands of talented music artists compete for attention and recognition. You may have a natural flare for writing good songs and producing good music, but you must also promote your music and yourself in order to get recognition in LA's music industry. Read below the
Build Your Online Presence
In today's digital world, as a music artist, you must have a strong online presence. To showcase your music, upcoming performances, and other career-related news, create a website, social media accounts, and other online platforms. Connect with fans, music artists, and business leaders using these channels.
It's important to build a polished, expert website as the foundation for your online presence, but perhaps even more crucial is amassing a sizable and devoted mailing list.
In addition to links to your music, bio, images, and tour dates, your website should also have a mailing list sign-up form.
Email marketing is an excellent way to directly reach people who will be interested in your music.
To improve SEO and raise your website's search ranking on Google, you should regularly add new content to it.
Besides, you must never ignore an effective social media marketing strategy. It's crucial to establish and maintain a consistent, amusing, and engaging presence across Facebook, Twitter, Instagram, TikTok, and even less obvious platforms like Snapchat. To maintain your fan base and keep your audience engaged, be consistent with your online profile and update it with interesting and engaging content.
Register with music artists' services
The majority of the largest music streaming services have websites designed with music artists in mind. So it is wise to register with them if you're releasing music.
These services will give you access to a variety of platform features and advantages that are only available to music artists who use and release music there.
So, for instance, registering for Spotify gives you access to Spotify's "Artist Pick," the ability to add a profile image, submit music to Spotify playlists (more on that below!), edit your artist bio on Spotify, and view streaming analytics.
Besides, Spotify you should also sign up for Apple Music, Amazon Music, Deezer, and YouTube if you want a greater reach in Los Angeles.
Get your music featured on music blogs and publication
Having your music featured by music publications, whether they are well-known magazines or specialized blogs and webzines, can help you generate buzz and give you the credentials you need to advance your musical career in Los Angeles. Send them your music, recorded and produced at the best music recording studio in Los Angeles, for consideration and get in touch with them. If they play your music, it may increase your visibility and reputation in the market.
Generally speaking, the best way to get excellent coverage for your campaign is to hire a professional PR executive. But for a new artist on a tight budget, this isn't always feasible or affordable.
Do-it-yourself PR is a possibility for music artists with a modest budget. However, it's crucial to approach bloggers and journalists properly. You must first write an electronic press release. This ought to include all the pertinent information about you and your music.
Some of the best music blogs and publications in LA are Music 3.0, Aquarium Drunkard, Underground Hip Hop Blog, Grimmy Goods, LA Records, Los Angeles Times, Music Connection, and more.
Create original music videos
A compelling, intriguing, and unique music video has the potential to go viral online.
When it comes to making a video for your most recent release, don't be afraid to think outside the box.
Creating a traditional music video, visuals based on a live performance or a video on your recording session at the best music recording studio in Los Angeles is a great idea. Besides, you can also make your videos with thought, consideration, and effort, which could pay off greatly.
Collaborate with like-minded people
You might prefer to promote your music on your own, but working with a great team of people who share your interests can have a lot of advantages. It makes sense that your chances of success will rise if you have a team of influential people who are enthusiastic about your music working for you. You can expand your network and meet industry people and other music artists by attending gatherings, conferences, and workshops. You can attend upcoming music festivals, such as Beachlife Festival, Desert Hearts Festival, Just Like Heaven Fest, and more or attend music events at clubs, bars, and other venues. At these music events, you can come in contact with industry professionals who could be your potential collaborators.
If you can put together a group of people who will assist you for free or in exchange for a share of your earnings, that's fantastic! But occasionally you'll need to hire experts to give you an advantage in the cutthroat music industry.
You can also expand your reach by collaborating with other music artists, producers and industry professionals. You can collaborate on an album, perform together live, or include one another in your individual songs.
Perform Live Shows
Live performances are a fantastic way to promote your music and grow your fan base. Seek out chances to perform at nearby venues, clubs, and festivals. LA with a varied music scene has several venues where you can perform live at any music event or open mic nights, such as The Mint, The Federal Bar, Los Globos, Catch One, Hotel Café, and more. To draw a sizable audience, advertise your shows on social media and other platforms.
Performing live can also help you meet industry people such as music producers, agents, and other music artists. Be confident when introducing yourself and promoting your music to potential listeners.
Don't Give Up
Self-promotion in the music industry in Los Angeles is not an easy task. The fierce competition among so many aspiring music artists makes it challenging and time-consuming. So you need to be patient to see the result of your hard work and persistence. If you don't get the results right away, don't be discouraged. Continue to put in the effort, market yourself, and develop your skills. To be in the Los Angeles music scene, you must be persistent and dedicated to succeed.
Conclusion
For one to be successful in the Los Angeles music business, one must promote oneself. You can establish a name for yourself in the industry by developing your online presence, going to networking events, working with other music artists, performing live shows, contacting music blogs and publications, and never giving up.
ZOOM Recording Studio, the best music recording studio in Los Angeles, helps aspiring music artists in recording and producing music of professional caliber. With modern equipment and in a sound-proof environment, music artists are able to record their music, and experienced sound engineers help in perfecting them with their expertise in mixing and mastering. You can utilize the music recorded and produced at the best music recording studio in Los Angeles for self-promotion.
To record and produce music of professional caliber, connect with us.