Music Tech : New Tools for Producers and Engineers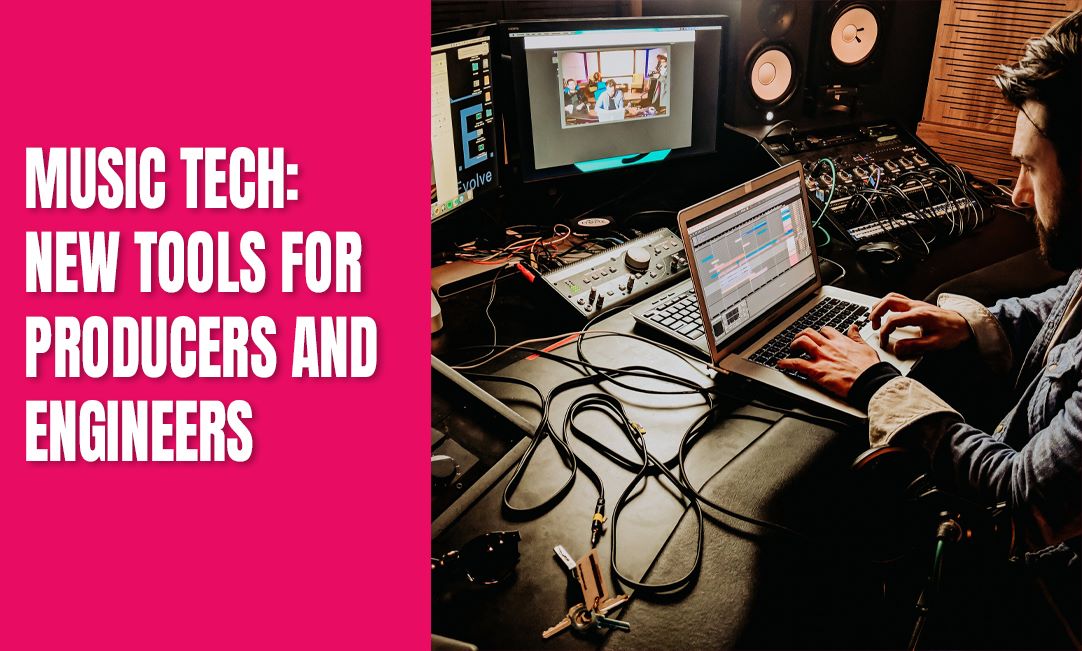 29-June-2023
Technology is shaping the landscape in the ever-changing world of music production and sound engineering. Advances in software and hardware have transformed the way music is made, enabling artists and sound recording engineers to achieve previously unheard levels of creativity and quality in everything from recording to mixing and mastering. This blog will look at some of the most recent tools for mixing and mastering that have emerged to assist music producers and sound engineers in taking their craft to the next level.
Latest tools for mixing
One of the most well-liked AI music-mixing tools is Lander. It analyzes your music using AI algorithms to give it a polished and professional sound. It is one of the best tools for aspiring music artists. A complete package provides automated mastering, mixing, and distribution. Starting at only $4 per month, its pricing is also reasonable.
For sound recording engineers looking for an all-in-one answer to music production, LANDR is a fantastic choice. Its time-saving automated features deliver excellent results. Besides, having excellent mixing features, it can also help you with mastering your tracks.
Another excellent AI-powered music composition app is Amadeus Code, which enables users to make professional-caliber music tracks in a matter of minutes. Based on the user's inputs, its AI algorithms analyze musical tracks and create new melodies. Although the app can be downloaded for free, some features cost real money.
For sound recording engineers who want to quickly develop new melodies without prior musical training, Amadeus Code is a fantastic tool. Its AI-powered composition engine generates excellent outcomes.
Oeksound Soothe 2 uses AI algorithms to identify and block unwanted resonances and harsh frequencies. It includes a real-time frequency visualizer, a spectrum analyzer, sophisticated EQ and compression controls. This versatile tool is compatible with both Mac OS and Windows.
For mixing engineers looking to remove harsh frequencies and resonances from their audio tracks, Oeksound Soothe2 is a potent tool. It's a fantastic option for expert sound recording engineers and beginners alike thanks to its sophisticated controls and real-time visualizations.
Waves Nx Virtual Mix Room
Waves Nx Virtual Mix Room is a special mixing tool that produces a lifelike virtual mixing environment. It simulates a virtual mixing room using 3D audio technology and is widely compatible with DAWs. The tool features head tracking, which modifies the sound in response to head movements and offers sophisticated controls for reverb and delay.
It's a fantastic option for sound recording engineers to produce realistic and immersive soundscapes because of its sophisticated reverb and delay controls.
Latest tools for mastering

Once you have mixed your tracks with the above mixing tools, try mastering them with these mastering tools.
Waves – Abbey Road TG Mastering Chain
The TG Mastering Chain is a mastering plugin based on the EMI TG12410 Transfer Console. It consists of five distinct processes organised into modules. The TG12411 Input, TG12312 Tone (EQ), TG12414 Compressor/limiter, TG12414 Filter, and TF12416 V.A.L. (stereo spread) are all present.
All the modules in this plugin can be rearranged and used independently. However, when used in tandem, they can impart a classic hardware sound to your music productions.
Sound recording engineers prefer plugins in Waves – Abbey Road because of their exceptional quality. However, for any type of music mastering, the TG Mastering Chain will provide an excellent result.
The main Elevate mastering/limiting plugin has artificial intelligence algorithms that can naturally increase loudness while maintaining dynamic perception, which is quite an accomplishment. Elevate uses AI to determine the appropriate level of gain, speed, and transient variation for each band rather than forcing you to set the bands manually. As a sound recording engineer, you can push the AI into additional limiter zones, and it constantly strives to produce the most realistic-sounding outcome.
The best place to look, if in doubt, is probably Izotope's Ozone. It functions best when used alone as a mastering suite. This has the benefit of removing sound recording engineers from their routine DAW workflow and providing them with a valuable chance to view and hear the music from a different angle.
You can add different processing modules from Ozone to your imported audio. Multiple EQs, an Exciter, Dynamics, Imager, Limiter, and Maximizer can be chained together. If you lack experience, you might want to look through the presets to see if anything matches the style or genre you're trying to imitate.
Moreover, the user interface is very professional, calm, and slightly futuristic. Even if you have no idea what you're doing, with brilliant visuals, presets and templates, you'll get better-sounding music.
A true peak limiter like Pro L-2 is a crucial tool for mastering. It is accompanied by some top-notch monitoring meters and tools that take into account both conventional techniques and the most recent advancements in streaming and online delivery formats.
The Pro L-2 is a powerful metering and limiting plug-in. It has loudness metering that supports all current standards and precise true peak level meters. Choose a limiter setting of -9 LUFS for CV or -14 LUFS for streaming, then sit back and relax. To help you recognize when you are going too far, the Loudness Meter Target compares your audio level to the goal you are trying to achieve.
You can't beat Pro L-2 for getting that last level right.
Conclusion

Technological advancements continue to shape the music production and sound engineering landscape. Technical advancements have given music producers and sound recording engineers new ways to create, mix, and master music. We can expect even more exciting tools and possibilities to emerge as technology advances, allowing artists and engineers to push the boundaries of their creativity even further. Embracing these new tools while honing their skills will undoubtedly assist music industry professionals in mastering the technology and realizing their full potential.
ZOOM Recording Studio
, a professional recording studio in Los Angeles, assists aspiring music artists in music production. Our Grammy-nominated sound recording engineers with their exceptional talent and the latest tools transform your music from good to the best!