The 7 Best Ways to Get Streams via Spotify's Algorithm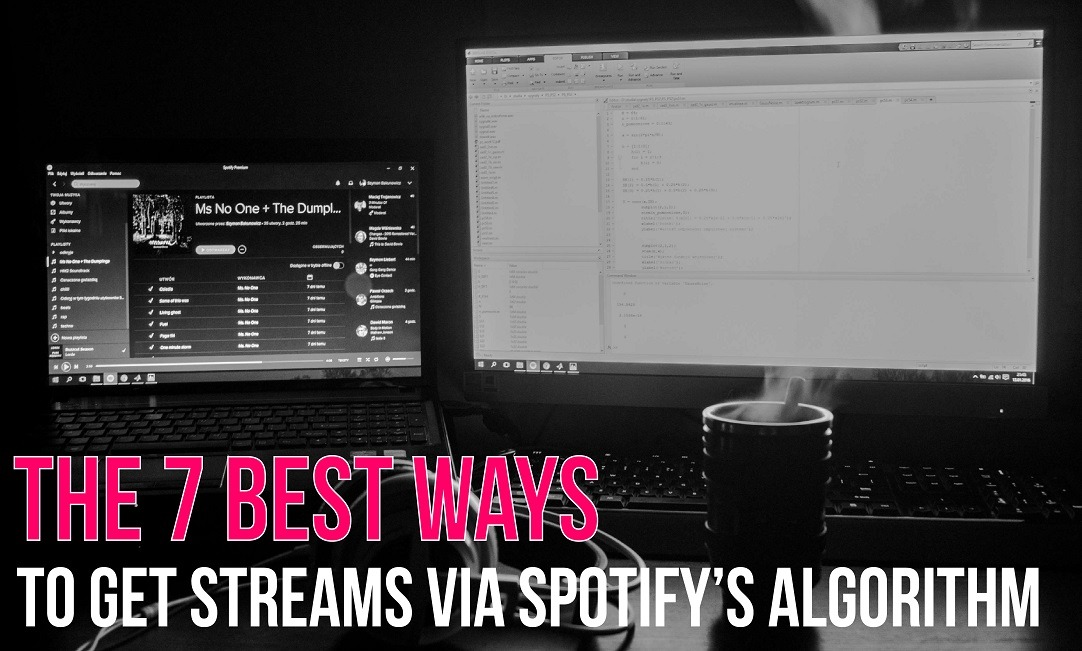 The Spotify algorithm is one of the main factors influencing modern music tastes. It helps people discover new music through playlists, artist selections, and song recommendations generated by an algorithm. With it, you can increase your chances of getting your music heard by new listeners. So, learn the mechanics of Spotify's Algorithm to keep playing your music infinitely and your listeners engaged. Here, let us know the seven ways how to get streams from Spotify's Algorithm.
What do I mean by Spotify's Algorithm?
The underlying technology that Spotify utilizes to continue playing music even after a song or album has ended is known as the Spotify algorithm. As a result, Spotify is able to play songs indefinitely and maintain a listener's interest.
Additionally, Spotify's technology is utilized to generate tailored mixes, playlists, and artist suggestions on the app's home page.
The algorithm is based on intricate AI code, but it basically analyzes your usage of the app and gathers information from all of its users to predict which music you'll listen to next.
So, as an artist, when you upload your music on Spotify you need to know how the platform is designed, and how you need to work with the algorithm and cater to its needs. Give it what it wants to receive more streams and publicity in return.
Best 7 ways to get streams from Spotify's Algorithm
1. No worries about aesthetics
I won't advise someone to alter their sound or compromise their artistic integrity in order to adhere to a purportedly "Spotify-friendly" aesthetic.
You should create the music you want to, the music that best captures your authentic artistic vision and who you really are.
We're all seeking authentic expression, not music that was created to fit into a box that some streaming site can offer, so if you do that well, people will notice.
Therefore, don't sacrifice your sound to produce algorithm-friendly music; if you put a lot of effort into creating good music that you enjoy, the listeners will follow.
Of course, you can use a variety of effective marketing strategies to spread the word, but none of them compromises the quality of your music.
2. Run a pre-save campaign
Planning a pre-save campaign before your launch is a really fantastic idea if you're releasing something. Encourage your followers to pre-save your album when you make the album announcement. This makes sure that on the day of release, your tune will be remembered by your fans. Early streams and interactions are crucial for the algorithm since they let Spotify know that your music is gaining some traction. It's also helpful for creating some natural buzz for your approaching release.
3. Put in good metadata
Music metadata is adored by algorithms. This is so that the computer can classify your music and make sure that it is played to listeners who are interested in particular genres, sounds, languages, and other factors. Therefore, while sending your tracks to your digital distribution service provider, be sure to provide as much information as you can.
Choose a genre that accurately describes your sound when asked to do so when selecting a genre and subgenre for your music. Avoid selecting a humorous genre because no one will listen to it and it will negatively affect your placement on Spotify and other streaming services.
If you're interested in learning more about the hidden, algorithm-friendly information that lies underlying metadata and streaming, I've written about it before.
4. Create a profile for yourself as an artist.
Go ahead and claim your Spotify for Artist profile if you haven't already. If you used LANDR Distribution to get your tracks on streaming services, it will immediately claim your profile, thus it might already have been taken. But regardless of whether you've claimed it or not, it's strongly advised that you sign in to Spotify's website and customize your profile by adding things like a unique bio, profile photo, playlist recommendation for artists, upcoming concerts, merchandise, and more! In addition, giving the algorithm more data to latch onto about you, will enhance the experience for fans trying to learn more about you—especially when it comes to your playlist choices!
5. Encourage your followers and likes to grow.
Nothing informs Spotify more about the music that your audience like than a like on a particular track or album.
In order to encourage your followers to follow your project and enjoy your music on social media, don't be scared to employ the time-tested YouTube catchphrase "like and subscribe."
Your Spotify algorithm recommendations will increase as you gain more followers because you'll attract more monthly listeners.
6. Utilize Spotify's experience-improving features.
Giving creators the option to improve the music-listening experience on their platform is something Spotify has done exceptionally well.
It is feasible to add looping videos to their tracks and offer scrolling lyrical content thanks to tools like Spotify Canvas and scrolling lyrics.
By including these experience upgrades in your songs, you may encourage listeners to stay engaged with your music for longer periods of time, which will only improve your chances with the algorithm.
7. Submit your music to create a playlist
A prominent Spotify playlist is the one thing that is certain to offer your music an algorithmic boost.
Playlist placements are hard to come by because you have to catch the eye of the human curators at Spotify, but that doesn't imply it's impossible.
Fortunately, Spotify is the only streaming service that permits any artist with a forthcoming release to submit their songs for playlist approval.
Once it has been claimed, you can submit an upcoming release using your Spotify for Artists profile.
Conclusion
Millions of songs are instantly available to us today, and I can stream them indefinitely.
While this freedom is incredible, it had created new problems. People are unable to decide what to listen to next.
Because it makes it easier for the general public to discover and stay up with both new music and classic songs, the algorithm has evolved into one of the most significant forces behind music discovery today.
And it aids artists in gaining more followers, developing their careers, and even getting paid.
Simply put, concentrate on creating quality music if you want to succeed on Spotify.
ZOOM Recording Studio, a professional recording studio helps you become a better artist by polishing your music through our mixing and mastering services. In addition, we also update you about the latest happenings and trends in the music industry. To avail of our services, stay connected with us.