The Art of Audio Engineering: A Guide to Music Production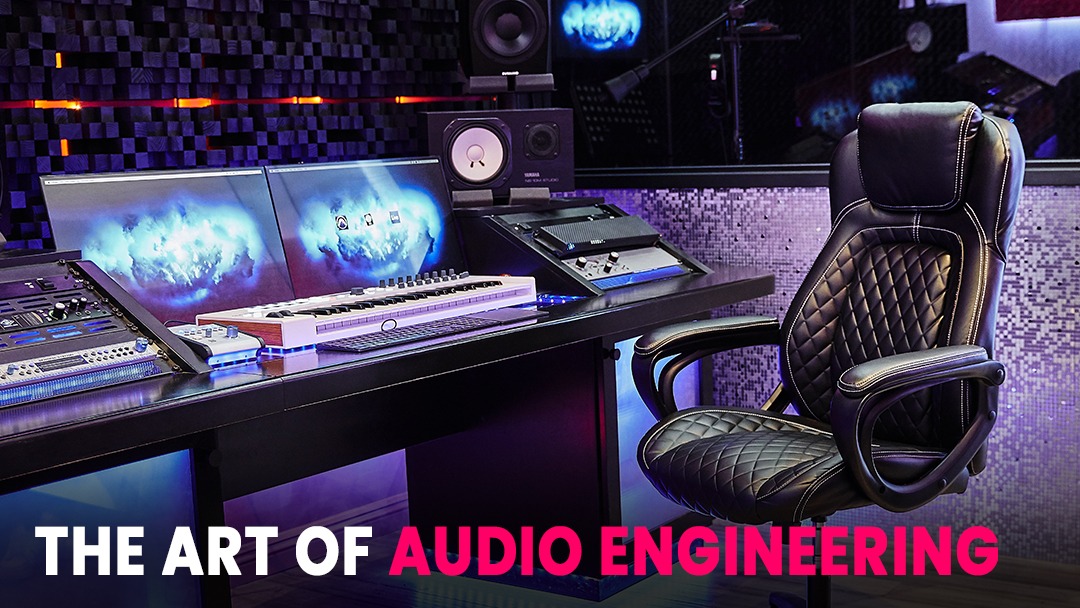 Audio engineering is a creative profession where musical instruments and technology are used to produce sounds for television, films, radios, music games, etc. An audio engineer is a professional who may have an engineering degree and is responsible for designing, building, and developing audio or music technology.
Such a person is responsible for all the technicalities associated with music production. An audio engineer can also set up and do live music for mixing music concerts using the sound reinforcement system. Many great musicians and hip-hop stars started their careers as Audio or music engineers.
What does it take to become an Audio Engineer?
If you're someone who analyzes or has a tendency to cue in and listen carefully to the sound quality, layers, and various parts of the music you listen to, then you might just be the perfect fit for this field. Those all who have the ability to pick up a line fr om a single and tell wh ere the sample was grabbed from are often the naturally gifted ones. It obviously doesn't mean that those who are new and willing can never learn this course. With the correct guidance and experience, one can undoubtedly gain expertise and start off their careers with a bang!
Apart from being able to judge the music quality, it is extremely important for an audio engineer to have good if not great communication skills. Now this skill is more often than not a necessity in almost every profession. Being an audio engineer one must be able to convey their thoughts and ideas with sheer precision to the people they're working with. Not only does it assure everyone is on the same page but can also help with the image building among the influential connections and parties. This could even repay as a huge benefit in the future.
Interest in learning and updating oneself about new technology and data in the market is mandatory for anybody thinking of building a career in audio engineering. The zest for learning must never stop and the love of discovery must never end. All the highly successful audio engineers including Chris Lord-Alge, Dave Pensado, and Mark Christensen have always been vocal about the love for discovery and consider it to be an essential character trait for any aspiring audio engineer who wants to stay relevant in the industry.
Having strong analytical and problem-solving skills will be proficient at learning and operating various computer programs. While working in music recording studios or any professional music studio it's important for one to know about the latest technology, software, and equipment used to produce the best quality music. That's how you learn and gain the necessary experience.
One principle which remains constant among all the professionals is "Good in-Good out". This maxim basically stands for the primary objective of every professional sound engineer ie to have good conditions for great quality sound records, great performance from the musicians, and a great capture of the sound using the right technology and correct practices.
Should you consider audio engineering as an option or Not?
Well, the answer completely depends on your likes and skill set. Apart from the above-mentioned skills and techniques, if you're someone who has the ability to show on time, answer all the texts and calls, have the ability to build a rapport with the professionals, and can meet deadlines, then this profession may just be the best fit for you!