Top 5 Best Bitcrusher Plugins for Creative Effects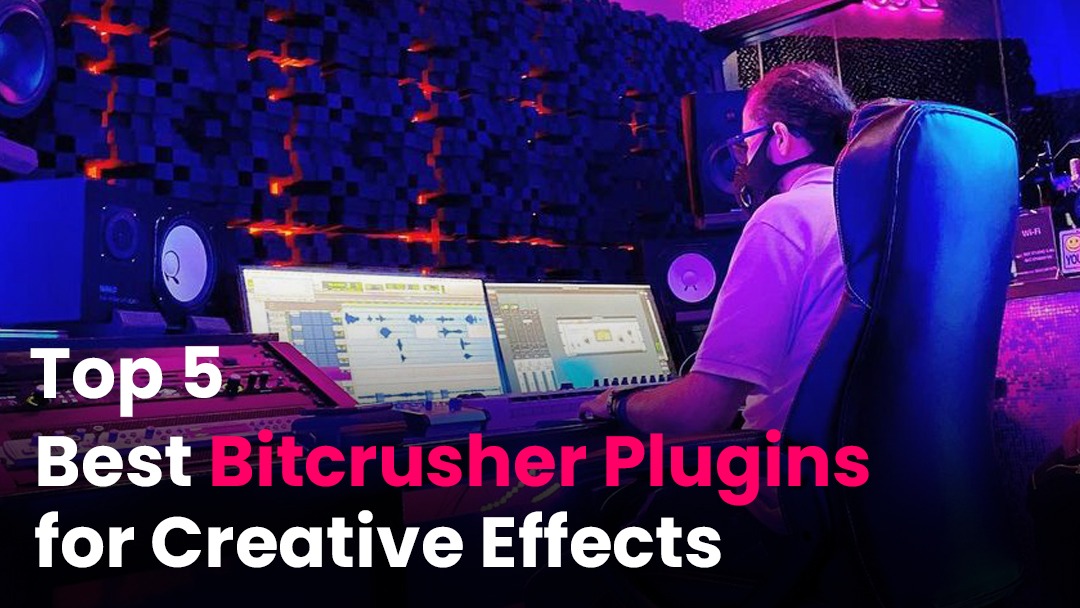 The digital audio effect created by Bitcrusher is easily and instantly recognizable. This unique sonic texture when used creatively creates interest and variety in your sound.
In this blog, I'll let you know all about Bitcrushing – what Bitcrushing, the best five Bitcrusher is and how to use them.
Let us start here.
What is Bitcrushing?
Bitcrushing is a type of digital sound editing that lowers an audio file's quality for musical effects. This digital audio effect can create some peculiar, one-of-a-kind, distorted sounds. Simply put, bitcrushing is the process of decreasing a digital signal's accuracy and, in effect, discarding some of the digital data that was used to produce a sound. Significant distortion and digital degradation of the audio input are characteristics of this.
The idea of ​​lowering a sound's digital accuracy in a creative way was unheard of a few decades ago. Bitcrushing has become a fairly popular audio effect among producers in recent years thanks to the emergence of numerous electronic genres that use this idea.
Top five Bitcrusher plugins for creative effects
1. D16 Decimort 2
D16 is renowned for its superior collection of artistic plugins, which features fantastic twists on all the traditional effect types.
But when it comes to bitcrushing, their Decimort 2 outperforms the competition.
Decimort 2 can simulate a wide range of vintage hardware devices and can also aggressively break down your audio.
2. Softube OTO Biscuit
The OTO Biscuit plugin from Softube is based on a mysterious piece of French hardware that was released in the late 2000s.
DJs and electronic producers took a liking to it because of its gritty bitcrushing and lo-fi multi-effects.
The Biscuit also included a great analogue filter for even more tone-shaping options.
All of the quirky magic of the original is brought to your DAW by Softube's digital recreation.
3. Cableguys Crushshaper
If you're looking for the bit crusher effects of the future, Cableguys Crushhaper offers a distinctive method.
With a special drawable LFO, it provides adaptable bit-crushing effects that sync to your DAW.
The way bit crushing is done in Crushshaper will appeal to you if you enjoy making rhythmic patterns with effects.
4. Your DAW's built-in bitcrusher
While having a great workflow and adjustable parameters is nice, there are times when the simplicity of a native DAW plugin is the best option.
The majority of DAWs include a variety of built-in plugins, including ones that can reduce bit depth and sample rate.
For instance, the Redux plugin for Ableton Live is a simple bitcrushing processor that can reduce sample rate and bit depth with jitter, shape, and filter controls that can be adjusted.
5. Xfer Deltamodulator
Free bitcrushing plugin Xfer Deltamodulator employs a novel method of sample rate reduction.
It makes use of a method called delta modulation that is comparable to the sampling channel of the Nintendo NES in the past.
How can you use Bitcrusher in your music?
You can use these Bitcrushers in three different ways.
1. Creating robotic vocals
A great way to achieve the well-known robot voice effect is by bitcrushing.
While ring modulation and vocoder are frequently used, bitcrushing can be used instead of or in addition to them.
Reduce the sample rate until the voice starts to sound jagged and digital.
2. Providing retro sampler effect
Old-school samplers with grittier, punchier tones are highly prized.
The lower-quality digital recording that was required due to early hardware restrictions was one component of the recipe.
Without the hassle of hardware, subtle bitcrushing can recreate the vintage feel of old-school samplers.
To give your sound some light digital grit, try gentler settings.
3. Cutting sonics
To sound right, the beat occasionally needs to be extra dirty.
When conventional saturation isn't going to cut it, bit crushing should be your next sonic annihilation technique.
Drum loops that have been bit crushed can have a charming 8-bit appearance similar to an old video game. You decide whether they suffer utter devastation at the hands of emotionless computers.
Conclusion
Bitcrusher is a special effect that can only be used in the digital world. That is why experimenting with it is so much fun.
These plugins help you achieve whatever sampler coloration you desire, whether it be subtle or overt sonic mayhem.
Use some or all of these plugins to create unique audio effects.
ZOOM Recording Studio
, a professional recording studio, offers multiple services related to music production, such as studio rental, mixing, and mastering. Besides, we also update and inform emerging artists about the latest trends in the music industry through blogs. To know more, stay tuned with us.