Daniel De La More
At ZOOM Recording Studio, we take great pride in our team of highly skilled and experienced sound engineers who play a critical role in making your musical dreams a reality. Our recording studio in Los Angeles is home to several Grammy-nominated sound engineers who are passionate about music and dedicated to providing top-notch recording experiences to music artists.
What Makes Our Sound Engineers Stand Out
Passion for Music: Our engineers possess a genuine passion for music, which drives their dedication and commitment to every project. Their love of music inspires them to go above and beyond to capture the essence of your performance.
Expertise and Training: All our engineers are highly trained professionals with specialized education in music. They have the experience of collectively spending over 500 hours in various studio sessions, gaining valuable experience and honing their skills.
Quality and Monitoring: At our recording studio in Los Angeles, we prioritize delivering top-notch results, and engineers' final projects undergo constant monitoring. It ensures that the recordings and mixes meet the highest standards of music quality.
Client Satisfaction and Collaboration: Our engineers have an excellent track record of receiving positive reviews from their clients, showcasing their exceptional abilities. With their keen attention to detail and openness to collaboration, they work seamlessly with music artists, turning musical visions into reality.
When you work with the top recording studio in Los Angeles, you gain access to a team of sound engineers who genuinely care about your music and are committed to assisting you in realizing your artistic vision. Our dedicated engineers bring out the best in your talent, whether you're a seasoned professional or a newcomer to the music scene.
At Zoom Recording Studio, you can benefit from the expertise and professionalism of our sound engineers. We're here to help you realize your musical dreams, one outstanding recording at a time. Book a session with us today to get started on creating music that will resonate with audiences all over the world!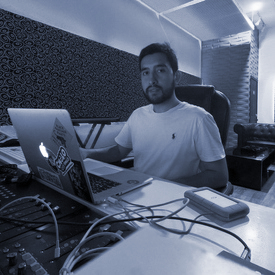 Advanced Engineer
Daniel De La More, a talented producer/engineer hailing from Santa Barbara, California and now based in Los Angeles, is making waves in the music industry. With a diverse clientele that includes acclaimed artists such as Wiz Khalifa, Madeintyo, Young Deji, Peso Peso, SK8, Chxpo, Dumbfoundead, Nia Sultana, and more, Daniel has proven their expertise and versatility in the field. With over five years of experience in the professional recording industry, they excel in various aspects of music production, including producing, engineering, mixing, and mastering. Beyond their technical proficiency, Daniel is a self-taught musician skilled in playing keys, guitar, drums, clarinet, and saxophone. Currently serving as the dedicated engineer for Taylor Gang artist Young Deji, Daniel is constantly seeking new collaborations and thrives on the opportunity to bring fresh ideas to life from inception.